The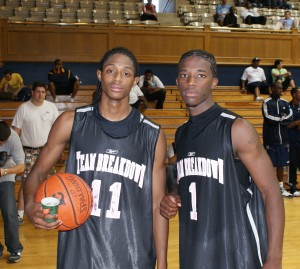 Duke staff will take in an open gym for Brandon Knight tomorrow.  [private] They will have a school visit with Kenny Boynton Jr.
I told you in the last update, that Duke will visit all of their prospects as NCAA rules allow.  They have been very pro active and will continue to be.
As mentioned in an older update, Harrison Barnes will be visiting on October 24th.  It was contingent on finances and it has worked out.  This is a very good sign, but it'll be quite a while before he makes a decision.
Prospect Ryan Kelly is visiting UNC.  I'm expecting a decision as early as next week.  The general feeling is that Duke is very much in it, but so are the other teams.
Assistant Coach Nate James went to an open gym for Josh Smith late last weekend.
The Duke Football team has been practicing with crowd noise all week.  They have sent staff members down to Atlanta early to scout out the area.  IOW, they are taking extra precautions to make sure the team is relaxed and gets a good nights sleep.  Eron Riley will suit up despite the injury report and the Devils are expecting both Tech QB's to be ready, being aware of the pre game chess match. [/private]