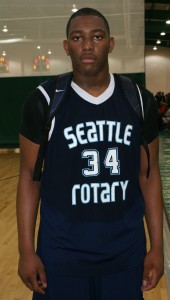 BDN Premium caught up with Josh Smith (6-9 Kentwood HS, Covington, WA) after he tossed in 36 points in Seattle Rotary Select's opening night win at the Boo Williams Invitational. Discuss this interview on our private message board.
Wow!  Thirty six points, game winning shot in the opener, what's up with that?
Aw, I man (smiling) ... it felt good.  I started out feeling good and kept on pushing it inside.  We had a little jet lag in the first half but we kind of woke up. [private]
Is this your first AAU Tournament on the east coast?
Not my first on the east coast, but my first time here.
So, where have you been on the east coast with concerns to AAU ball?
New York, Cincinnati.
Who is recruiting you?
Well, everybody is recruiting me right now, but I don't have a list.
I am sure you have heard this question before, but is there any truth that it is down to UCLA and Washington for your services?
That's not true.  I am not necessarily staying on the west coast.  If I do, I do.  I'm not totally sold on the west coast despite what people are saying.  It's where ever I feel comfortable, east coast or west coast.
Which schools stay on you the hardest?
All the PAC-10 schools, Texas, Louisville, Carolina, Duke.
When is the last time Carolina or Duke got in touch with you?
They send me letters all the time.  They call my Dad.  Coach K and my coach are real close so ...  my high school coach and they talk a lot.
When is the last time you talked with coaches from Duke or UNC?

It's been a while.
So, you are still open to Duke or UNC?
Yeah
Three words which best describe you as a person -
Calm, determined and funny.
How did you feel after hitting that winning shot?
It felt good.  I felt kind of nervous because I was going to go up and dunk, but my knee gave way and I got the lay up.
I will elaborate more on Josh and Duke on the message board.  This is an interview to get the ball rolling. [/private]