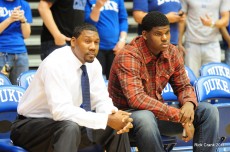 It's getting down to crunch time for one of the nations top senior prospects in the 6-9, 280 pound Tony Paker.  The big man with the soft hands and solid post moves visited the Duke campus this past weekend where he took in the Blue Devils exhibition game.  Parker was accompanied by his parents and arrived on Friday and spent close to 48 hours with the Duke players and staff.  Blue Devil Nation Premium caught up with Tony Parker who gave us all the latest skinny including his thoughts on his visit to Duke where he used the word "great," numerous times. It's a great time to join and gain full site access and then discuss the latest with members on our private message board.
We talked during the AAU circuit and beyond and each time you said that you would be making a decision before your high school season.  Is that your plan?
Yes sir.  Our season starts November 10th but we're already practicing.
What kind of team do you guys have this season and will you be playing in some of the national made for T.V. games?
We should have a pretty good team, real experienced.  We have four games all of them will be on ESPN. [private]
And which programs that have recruited you are still on your list? [private]
It's Duke, Ohio State, Memphis, Georgetown and UCLA.
Have you visited all of those schools to date?
Yes.  No, I haven't been to Georgetown.
With a decision looming in a few weeks will you be going there soon?
Yes sir.
Tony, you just came off a visit to Duke this past weekend -- how did that go?
It went great, I really enjoyed it.  I really had a great time and I had a great time at the game and really appreciate the fans and it was an all around great visit.
When you say you appreciated the fans, can you elaborate on that a bit more?
The Cameron Crazies are a great fan base and they recognize you.  They made a sign or poster which I thought was pretty cool.  I could hear them cheering my name and one time they were chanting for me to come sit with them and I thought that was great.
Now the lead assistant for Duke is ...
Jeff Capel.  It was Nate James and I was able to talk to him too.  He just talked to me about where i would fit in and play.  They said they would use me as a scorer and give me the ball a lot kind of like they did Elton brand and Carlos Boozer.  They showed me film of those guys.
What do you think about Coach K and can you share a little bit of what he said?
He basically said the same thing and he talked to me a lot throughout the weekend making sure I was okay and I think he is a great coach.  He's doing a lot of good things with Duke Basketball and he just talked to me about basketball in a straight up way and that meant a lot.
How did you get along with the players while there?
Really well.  I talked with pretty much all of them and Quinn Cook showed me around just like the staff did.  I saw a lot of the facilities.  I got to see Kyrie Irving, Nolan Smith and people like that and they sat behind me and my parents at the game.  I didn't play any pick up because they had a game you know.
What was your favorite part about the visit?
Going to the game and seeing how they play.  They just played a good game and really got after it.  It was great and I thought they really played well.
Are any teams standing out?
No, not really.  We are still discussing it.  My parents will help me with my decision the most.
What did they think about this past weekends visit?
They really liked the visit.  They love Duke.  My parents have always loved Duke, it's there favorite school.
How do you see yourself at the college level?  A center, a power forward?
I think the power forward, I like coming off the blocks and that would be my main position in college.
And how tall are you now Tony?
6-9, 280 pounds.
If there was a game on the line, would you rather have the winning block or a score?
The winning block.  I like to play defense.
How is everything else going Tony, like school and such?
School is school.  It's my senor year so it's going by real fast.  School is all well.
Do you fell like you are living the dream?  I mean do you ever step back and think all these good programs are recruiting me and humble yourself?
Yes, all the time.
What are the words you live by or the outlook you have on life?
I would have to say just work hard at whatever you want to do and have a goal and a dream set in life.  I want to play basketball so I work hard at it and basketball is my dream.  Basically, just work hard and achieve your dreams.
Thank you for your time Tony and good with the recruiting process.
Yes sir, thank you.
Synopsis - Despite the paranoia surrounding his recruitment by much of the fan base, it is worth noting that Parker has kept Duke at the top of his list.  While his comments can be all over the place at times, his recruitment is at the point where you can take what he says to the bank.  Parker's voice lit up when he spoke of his visit to Duke and it was genuine.  While he said he will visit Georgetown, I have my doubts with the season so near but if it happens, it will be the coming weekend.  Count how many times he used the word "great," in the interview which I think points to Duke being a most serious player.  There is no doubt in my mind that young Parker felt the love from everywhere, be it the crazies, team or staff.  He knows there is time for him at Duke and in my opinion, I now feel Duke is the leader for his services.  Go back to where his parents will be most influential in helping him with his decision and how they have loved Duke all along and I will once again tell you, family is just that, family.  And that family clearly wants him in the Duke family.  I think the stars are aligning on this one. Of course this is recruiting so there are no guarantees. [/private]