The John Wall saga continues into May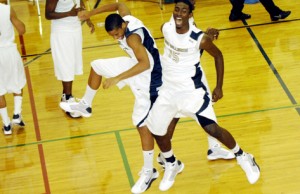 Don't look for Wall to trim his list today, but [private] Friday and  Monday are possibilities, as is any other day in the future.  There are many complexities which make up the battle for Wall.  And it remains to be seen if World Wide Wes can swoop in at the last minute and work his magic.  Make no mistake, he will likely make a play on the Wall Camp during the midnight hour.
On the other hand, Wall's Mom continues to side with the Blue Devils and some feel Brian Clifton wants him to stick close to home as well.  But before anything can happen, John needs to pass his SAT's.  He will make his first attempt on Saturday, but there are many who feel it may take another try before it's done, according to sources I have within the school.   If  Wall does not pass his SAT, he would forgo college and the options available are many.  Keep in mind that he has three opportunities to pass before the school year begins.
Still, if Wall can pass, Duke will remain in the race with Kentucky and a school or two which will likely make his final list.   I told you long ago that it would come down to Duke and Kentucky and while that could change, I have no reason to think it will.  As for a timeline on a decision, I will stick with what I told you a few weeks back in that this one could drag out until May 20th at the latest.  IOW, I am certain it will go into May.
As for Wall's meeting with Krzyzewski, nothing is etched in stone as I type, but that could change within hours.  Duke still wants a face to face where Coach K will get to chat with Wall one more time before a decision is made.

Eric Bledsoe
I told you on the message board that Bledsoe had passed his ACT and that he would visit Memphis and Kentucky on Saturday.  There is nothing set up with Duke at this time, but Bledsoe remains interested and the staff is following this situation with Nate James as the lead recruiter.  I have said for the past few weeks that Bledsoe is a long shot, and I stick by that.
Harrison Barnes
I told you a while back that UNC got in the Harrison Barnes sweepstakes and that they have an unofficial visit scheduled with him in June after the NBA Player Developmental Camp.  That seemed like bad news at the time, but the Heels have a lot of catching up to do.  Barnes is telling everyone his recruitment is wide open, but if we allow some patience, this could be a similar situation to Kyle Singler's.  Singler was thought to favor Duke all along, but he waited until the end for the decision, which put a lot of Duke fans on pins and needles.  I don't look for Barnes to verbal anytime soon.  Oh yeah!  The good news is that, not to be outdone, Coach K and the Duke staff "may" get an unofficial visit the same weekend Harrison heads to Chapel Hill for the first time.  This would make the third visit to Duke for Barnes.
There are no other unofficial visits set up at this time.  (I had to edit this  for the nature is sensitive)

A busy July ahead for the staff
Duke will not be able to hit the road until July which gives them a much smaller window than in years past due to NCAA rules changes.  Until then, they will study what they hear and by August, we will have a good idea as to who is really on the radar.
Event coverage
We will be mapping out the rest of our spring and summer schedule shortly, but rest assured we'll be represented at the tournaments that count.  There will be no drop-off in our coverage of the nation's best prospects.
One last note.  There are some things involving the John Wall recruitment where I am sworn to silence.  I must respect the wishes of my sources on this, but promise to keep you more than just a little aware of what is going on.  Thanks for being a member of the Blue Devil Nation.  The best is yet to come. [/private]