[private]I caught up to  Nolan Smith on Media Day while he was goofing around with Lance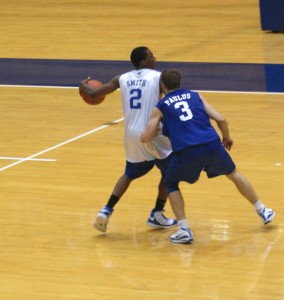 Thomas.  Lance was filming Nolan as he walked about the media interviews for the team website Blue Planet. They were there to have a good time and lighten the mood.
How was your summer?
It was great.  I really worked hard to improve my game and get better.
So, what's going on here?  You have Lance filming every move you make in the background.
Lance?  (smiling) This is um, the Nolan Smith Report.  I am kind of playing player, slash reporter going around and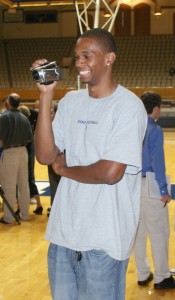 interviewing the guys.  I'm just seeing if they are ready to head into practice today and start the season.
So, what have you learned since walking around and filming these guys?
I learned that this team is ready to kick some butt!  Everybody is ready to go and excited.  It should be a lot of fun.  I'm having fun with the camera - players are smiling when I slip in over the media's shoulders.
What did you do in the off season?
In the off season, I went to Philadelphia and stayed there all summer.  I worked out with Michael Beasley and DeAndre Jordon who is with the Clippers.  We did four or five workouts a day getting stronger and quicker and just getting the ego. 
Coach K really speaks about ego a lot with our team and I gained my ego back and I'm just ready to come here and lead this team and do what I can.
So you're going to play with a little bit of an edge this season?
I will play with a nice edge.
A little bit of intensity ...
Yes, yes a whole lot of that and now that DeMarcus is gone I feel that's my spot - picking it up on defense and guarding the best player on the floor on the other team.
Do you feel like you have to step up and show a little leadership this season after having a year under your belt?
Oh definitely.  As you get older, you've got to get more wisdom and leadership.  I'm definitely looking to do that - talk more, last year I was definitely quiet, and that's all freshman.  Now, with a year under my belt, I know what to tell these guys. I know how to save coaches voice.
Can you tell me a little bit about the freshman?
Elliot is just athletic and he can play.  He can jump, score and defensively he can really get after it.  He's long and he's really going to help us a lot.
Miles Plumlee is going to give us some size.  He has great hands and he really knows the game.  We need a big 6-11 guy inside to help Kyle, Zoubs and Lance with the rebounds.
And then Olek, he can jump out of the gym.
How do you pronounce his last name?  Is it Chiz?"  I know  when you were playing over at NC Central during the NC Pro Am it was pronounced different on occasion.  It sounded different each time he said it as well ...
(laughing) Yeah!  Olek ...  He might pronounce it different each day, but I'm going to stick with "Chiz."
Okay, I think we'll adopt that.  They called him OC over there ...
Yeah, Olek Chizzzz.  He'll be an exciting player to watch.
You guys are really deep this year.  In your opinion will that allow you to play more people?
It's definitely going to allow us to save our bodies, play more people at every position - stay fresh and wear people down.
Is there a team motto or a key word going into the season?
Well, one would be don't be soft.  We've been working hard all summer to get strong and we don't want teams to push us around at all.  That's one of our (team) main focuses.  The other would be to have fun and win.  Everybody o n this team knows how to win.  We don't want to win by one or two.  We want to whip teams this year and have fun doing it.
You mentioned that edge ... will you take that into the Blue and White game?
Of course, of course.  You have to have that edge at all times.  Everybody on this team loves each other but when we practice, we've got to have that edge.[/private]