[private]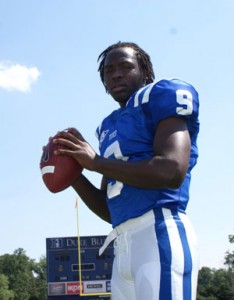 Duke heads to Atlanta this weekend for the first road game of the Coach Cutcliffe era. The 3-1 Blue Devils will face a solid 3-1 Georgia Tech team. The Yellow Jackets are coming off a bye week after defeating Mississippi State 38-7 on September 20th. Georgia Tech's 306.8 yards per game on the ground leads the ACC. Coach Paul Johnson is considered the best coach around for the triple option spread offense. Duke's defense must contain the Georgia Tech ground attack for the Blue Devils to have a chance to win.
Coach Paul Johnson has announced that freshman Jaybo Shaw will be the Yellow Jacket's starting Quarterback against Duke due to regular starter Josh Nesbitt being sidelined with a hamstring injury. Nesbitt was injured in the game against Mississippi State resulting in Shaw playing the majority of the game. In this article, from the Atlanta Journal Constitution, Johnson states, "If Josh can come back now, he'll be in a reserve [role], and Jaybo will be starting."
In this Durham Herald Sun article, Coach Cutcliffe states, "This is certainly the best team we've played, far and away. We've got to play great in all areas - and I mean great - to have a chance to stay on the field." Duke previously defeated Navy so they are experienced defending the triple option offense. Linebackers Michael Tauiliili and Vincent Rey are currently ranked first and second respectively in the ACC for tackles. They will need to have strong games against the Yellow Jackets.
This News & Observer article addresses the particular concern of Georgia Tech's big play potential. The Yellow Jackets have had 27 plays go for more than 20 yards with nine producing touchdowns. The Yellow Jackets also go for it on fourth down more often than most teams.
On offense, Duke is fueled by Quarterback Thaddeus Lewis and his favorite receiver Eron Riley. Lewis is second in the ACC with 218.5 passing yards per game. He has thrown seven touchdown passes with six of them going to Eron Riley. Lewis likes to spread the ball around and freshman Johnny Williams has 18 receptions on the season; sophomores Austin Kelly and Sheldon Bell have 10 each. Duke's offensive line must provide protection so Lewis has time to pass the ball. Georgia Tech is second in the ACC with 11 sacks.
Duke must establish their running game for a couple of big reasons.  First, forcing Gerogia Tech to respect the run will prevent the Yellow Jacket defense from going after Thad Lewis with a big pass rush every play.  Second, Duke needs to maintain possession of the ball in order to keep their defense fresh and able to deal with Georgia Tech's high powered running game.  Freshman Jay Hollingsworth came on strong in the Virginia game rushing for 59 yards on 15 carries.  A similar effort against the Yellow Jackets will be needed in order for the Duke offense to achieve success.
This game will turn on the normal events: controlling the line of scrimmage, turnovers, and big plays. If Duke can survive the first quarter without getting knocked out, the Blue Devils have a chance to still be in the game at the start of the fourth quarter. And if the game is still undecided at the start of the fourth quarter, anything can happen. Duke must start fast, especially on defense, take care of the ball on offense, and create more big plays than they give up to win.[/private]