BDN has been previewing Duke football's 2011 opponents all summer long. This week, we wrap things up as we prepare for Saturday's season opener, but not before taking a look at a crucial stretch of games in November. Duke will play three tough road contests at Miami, Virginia, and North Carolina in November, meaning that the November 19th match-up with Georgia Tech will serve as Duke's final home game of the season. The Blue Devils played the Yellow Jackets tough in Atlanta last season, but a late red zone turnover turned the tables on Duke's upset bid.
To help us preview the 2011 Yellow Jackets, BDN is glad to welcome back Winfield Featherston of FromTheRumbleSeat.com. His candid insight is invaluable when analyzing the Georgia Tech program.
BDN: Georgia Tech was among the ACC programs involved in a recent NCAA investigation, receiving a four-year probation, among other penalties. Can you summarize your thoughts on the NCAA violations? Do you expect there to be any affect on the program in 2011 or beyond?
My initial thoughts on the issue came across as too passive and made me look like I just rolled over. And I kinda sorta did unfortunately. The NCAA's penalties given to Georgia Tech are TOTAL BULLSH*T. They penalized us anything because they felt slighted when our AD didn't want Paul Johnson looking like Al Golden when the news broke against Tech. Sadly, GT is just big enough for big sanctions to make it look like the NCAA has teeth and could - if they wanted to- go after the big programs but we all know that won't happen.
Nothing will happen for the future. We vacated the 2009 ACCCG (BTW it still happened - Clemson's record book says so) and we paid a fine. Recruiting visits and scholarships are not affected.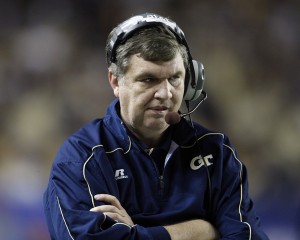 BDN: When Head Coach Paul Johnson arrived in Atlanta, he inherited a talented team and took them to a 2009 ACC Championship, led by All-ACC players like Jonathan Dwyer, Josh Nesbitt, Derrick Morgan, and Demaryius Thomas. After three years at the head of the Yellow Jackets, how would you assess the state of the program under Johnson? With only 12 starters returning in 2011, what are the expectations for this young group of Yellow Jackets?
The state of the program gets defined in 2012. This year it's finally Johnson's players in Johnson's system. Wipe the slate clean from the previous years. Any success or failures we had with Gailey players was just some form or luck really. Expectations are set in typical Georgia Tech fan fashion - pretty high. Many fans expect about 8 wins to reach the "good season" level. With most major games at home, that goal should be attainable. 
BDN: The Blue Devils got a good look at Tevin Washington running the triple option last year in Atlanta. There has been significant competition this spring and summer for starting jobs at QB and B-back. How do you expect that competition to play out at those two spots? What are the other question marks for the 2011 Georgia Tech offense?
The schedule plays perfectly for a good ole September platooning effort. I'd expect to see a mix of Synjyn Days and Tevin Washington to play out most of the games. I wouldn't be surprised to see Vad Lee either. The same goes for B-back with Charles Perkins, Preston Lyons and David Sims. By the time we hit October, we'll have our depth chart in fine condition. 
BDN: Al Groh's defense struggled in his first year in Atlanta a year ago, allowing almost 372 yards per game to opposing offenses. What changes or improvements need to be made for the Tech defense to be more successful in 2011?
Experience. We had to give the Groh-fense a year to sink in. Word on the street says that the defense has been improving tremendously and our young guys are all stepping up. 
BDN: Duke gave Georgia Tech a scare in Atlanta last November, throwing a crucial red zone interception and ultimately falling, 20-30. What do you think will be the keys to the matchup on November 19 in Durham? Can the Blue Devils give the Yellow Jackets another scare?
We're talking November football already? Sure it's possible. For all games this year, it will come down to the defense. History shows that over the season CPJ teams average the same offensive statistics per year. The defense will have to shut down Duke's offensive attack and let our triple option offensive do it's usual thing.  
BDN: Thanks for your help, Winfield! Good luck this season!
Previous week: November 12, Duke at Miami
Next week: November 26, Duke at North Carolina