[private]In the long history of the Glaxo Smith Kline Holiday Invitational, last evenings contest between Christ School Arden and Word of God Raleigh could well be the most memorable game.
Christ School came from 17 points down to defeat Word of God 76-73 with every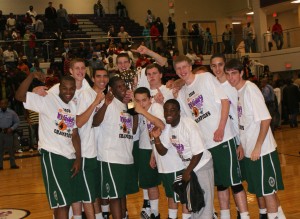 possession being critical down the stretch and big plays were made time and time again.
Before a standing room only crowd at Raleigh Broughton High School, the two teams put on a most entertaining and competitive contest.  In fact, it was one of those games where if you sneezed, you missed a great play, especially during a furious second half.
The game had it all -player and game intensity, a rocking crowd, steals and slams, multiple blocks by players in one sequence, great passing, You Tube instant classics ... well, you get the picture.
It was sort of like this - John Wall made the steal goes coast to coast in like two seconds and throws down a one handed sweeping dunk, Lakeem Jackson answers with a three point shot while blanketed with defense.  Word of God got the ball up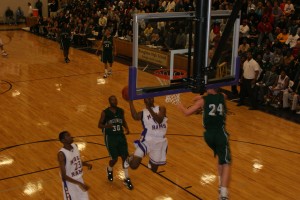 quickly and found C.J. Leslie flashing along the baseline only to catch it and throw down a dunk.  Not to be outdone Mason Plumlee throws the ball off glass, catches it in the same motion and throws down a thunderous dunk which is one of many spectacular plays that brought the crowd to their feet.
Word of God jumped out of the gates quickly with a break neck pressing defense and took a 23-11 lead after one quarter of play, knock the undefeated Greenies back on their heels.
"The first ten minutes or so, I was very upset with our lack of composure.  I was more frustrated than upset, but we knew we weren't going to quit.  We had to go out their and fight fire with fire," said Greenies Coach Gaines.
It seemed as if the gliding Wall was all over the place in that quarter, making several crowd pleasing plays. Wall took that play into the second quarter as well with the Rams continuing to stretch out their lead before the Greenies caught their breath.
Christ School Coach David Gaines said, "John (Wall) is the best north-south guy I have ever seen.  You see it coming and we're pretty athletic, but even with two or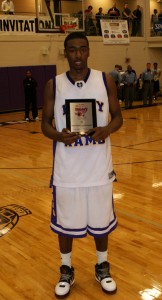 three guys on him or back, still I would often want to turn and look the other way because he is such a great finisher."
That was when Mason Plumlee got a scowl on his face just underneath where this writer was perched.  Plumlee wasn't that productive early, but he wasn't about to disappoint those who had come to see him play.
Coach Krzyzewski, Wojo and Nate James were their having just watched Duke commitment Ryan Kelly.    But a bit later his brother Miles Plumlee, Jon Scheyer, Kyle Singler and Elliot Williams entered the arena and sat just behind their coaches while adoring fans began to sneak over for glimpses and autographs.
Of course, K and company are one of the schools highly interested in John Wall and hoping to secure a visit with him.  Sydney Lowe and N.C. State assistants, sat just below the Duke staff on the floor as well.  They were their to see Wall and C.J. Leslie.
Back to Mason - it's as if he wouldn't be denied and his play along with some inspired minutes from his younger brother Mashall (5 points, 5 rebounds) helped the Greenies close the gap to 42-35 at the half.
"At halftime there weren't a lot of X's and O's, we made a couple of adjustments, but the challenge was that you've got to come out and meet that physicality with the same," said Gaines."
Mason Plumlee told BDN after the game, "We knew we were the better team and we got ourselves in a hole early.  During a timeout we decided we were going to be aggressive and take control."
As the second half started, Word of God picked up where they had left off and Christ
School found themselves behind double digits midway through the third quarter, but that's when the Greenies dug in and adjusted to the pace.
Part of the reason for the comeback was the Greenies front court, one which started to assert itself as the game went on.  C.J. Leslie had been a beast for WOG early on, but the young star was held to just 7 points in the second half. 
Another boost came from Reggie King who scored 11 second half points, many key baskets during the comeback.  Tony Kimbrough also added 9 points.
Word of God refused to go away until the very end in this game and they were led by the countries top unsigned prospect in John Wall and he gave the fans quite a performance, scoring 28 points, grabbing 6 boards to go with 3 assists and 2 steals.
"We came out and played our game, but in the end we just didn't finish it off.  I was able to penetrate and find lanes in their defense and that helped me to make some plays and get teammates the ball where they could finish.  We'll just have to learn from this experience and move on," said Wall after the game.
N.C. State commitment, C.J. Leslie chipped in with 18 points, 9 rebounds and 3 blocked shots.  Leslie was later named to the All Tournament team.
"I told our guys we played well for 99% of the game.  Our game plan was to keep
them off the boards and we did a pretty good job of that," said Word of God Coach Beckwith after the contest.  He continued by saying, "This team has made some tremendous strides in how they play together as a team."
Christ School had a more balanced attack putting four players in double figures.  Reggie King had 13, Lucas Troutman 11 and another All Tournament team selection, Lakeem Jackson had 10.
After the game, the awards ceremony took place and Mason Plumlee was named the tournaments MVP while John Wall garnered the Most Outstanding Player.  This was Christ Schools second Glaxo Championship.
"I'm running out superlatives.  This guy (Mason Plumlee) was the catalyst to getting us back in it.  Without saying anything and just through his actions he basically said we're getting back in this if I have to take over run the point, go down low or whatever.  He's a winner and he competes like the dickins," said Coach Gaines with concerns to the future Blue Devil.
BDN asked Mason if he was trying to be emphatic with his dunks and he stated, "Yeah (smiling).  There were a  lot where I should have dunked, but went up soft and had them blocked.  When I did get the opportunity I wanted to go strong."
Then I put him on the spot asking of the off the glass, catch and slam.  I joked with Mason asking him if his Dad taught him that with his proud Father, Perky standing nearby.  "You see a lot of stuff like that on You Tube.  I saw Tracy McGrady do it in All Star games ... it's not something you practice it just worked out for me."
During the press conference Coach Gaines had said Mason took a couple of shots he wasn't sure about, but he couldn't help but glow a little bit with that statement.  And while it may not have been a move his future college coach would suggest, it was surely a crowd pleasing move on a night where both teams left those in attendance with some memories.
[/private]