Ryan Kelly did everything he could to put his Ravenscroft team on his back and will them to victory, but the Ravens came up short falling to Northern Guilford 82-73.
Kelly put on quite a show in route to a career high 47 points which was by far the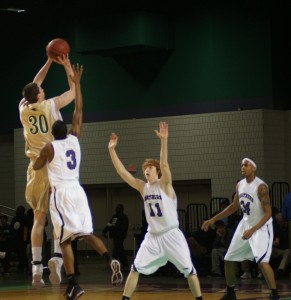 best individual performance of the day in the 7th Annual Martin Luther King Classic in Greensboro, North Carolina.
The future Blue Devil became his schools all time leading scorer as well.  Kelly now has 1763 points for his career eclipsing Corin Davis 1750 by 13.  He tied the school single game scoring record.
Kelly's 47 points, 30 of which came in the second half, tied the school record originally set by Lou Pucillo versus Laurinburg during the 1983-84 season.
BDN asked Kelly what his thoughts were after scoring a career high.  He responded, "You know my teammates fed me the ball well.  It's worthless if you can't get a win.  It was a tough one."
Ravenscroft fell behind early in the first half, but a Kelly alley-oop dunk gave his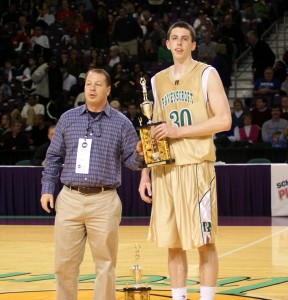 team a 24-23 lead.  Kelly followed that with another dunk and a drive to the lane for two, stretching the lead to 28-23, scoring six straight points.
Northern Guilford gathered themselves and took a 34-31 lead into the half, mainly due to the play of Jacob Lawson, Johnathan Frye and Michael Neal.
A 7-0 run put the game away for Northern Guilford, but Kelly kept the game close and led a comeback with 30 second half points.
Ravenscroft Coach Kevin Billerman was hit with a technical for questioning why a call was made late in the game and the same ref hit him again about 50 seconds later which automatically boots him from the game.  A seething but not animated Billerman then walked the court glaring at the ref.
"We didn't compete very well early.  It was probably our worst defensive effort of the year.  Offensively we did too much standing," said Billerman.
When asked of the ref calling two technicals, Billerman stated, "I don't know what the technicals were for.  I did not say a word to the official.  The first one our guy ran in the lane and it was like bowling pins falling - I waved my arms at it and ten seconds later he called a technical from the other end of the court.  I asked one of the other officials, what was the technical, would you please find out.  He said you need to sit down and before I could the fat guy came up and called another one.
Kelly was named his teams most valuable player after the game.
Ravenscroft (17-5) goes on to play at Wake Christian on Thursday, Jan. 22 at 7:30 p.m.
"That would have one to win in front of so many people. but we get back into the conference and sweep through that and get into the state tournament, because for us the loss didn't hurt with the state tournament.  We have to put it behind us," said a disappointed Kelly after the loss.
Kelly's final stat line was 47 points, six rebounds, five blocks, two assists, and two steals. He was 16-of-25 from the field, including 3-of-3 on three-pointers. He also shot 12-of-14 from the free throw line.
The only other Ravenscroft player in double figures in scoring was junior Mike Ehilegbu with 10 points. .
BDN Premium subscribers have access to the entire interview with Ryan Kelly as well as Mason Plumlee.  It's a great time to join for there is much more to come for members.  We will be breaking down the teams recruitng strategy and will tell you about some exciting prospects.  Our yearly subscription breaks down to 27 cents a day or 1.89 a week.  You'll find much better information than the newspapers offer and will have access to our members only message board to discuss the latest happenings.  So, why not join today!