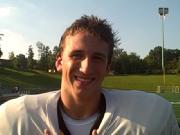 Duke Football continued it's momentum on the football recruiting trail snagging yet another in state prospect in Kelby Brown.  At 6-2, 208 pounds, Brown has established himself as one of the state of North Carolina's top linebacker prospects at Charlotte Christian Academy, who won the state title a season ago.
Duke's newest verbal commitment chose the Blue Devils over Arkansas, Boston College, Northwestern, Vanderbilt, Syracuse, UCLA and Wisconsin and had many suitors beyond that list.  Brown points to the combination of football and academics at Duke University as being a key part of his decision.  Brown carries a solid 5.0 GPA in the class room.
In a recurring theme, his relationship with the Duke Football staff played a huge role besides Duke's academic prowess.  Brown recently attended the Duke Football Camp and came away knowing where he wanted to play during his college football career.
Brown becomes the tenth verbal commitment for the class of 2009.