Day two is in the books for the 2009 N.C. Pro AM and once again it was another entertaining night of basketball at N.C. Central University.  Three Blue Devils played this evening, the incoming freshman Mason Plumlee and Ryan Kelly and Jon Scheyer.
Kelly wound up with 15 points and 7 rebounds and 1 blocked shot.  His team was down double digits throughout the contest but staged a late comeback to win the game.  During that stretch, Kelly hit two free throws with 1:38 left to give his team a one point lead.
On of Kelly's teammates was UNC's Ed Davis.  The two teamed well on the front line and Kelly looked for Davis when he had the ball, but the normally solid Davis struggled with just 6 points on the evening, looking frustrated at times.
Kelly also went up against David Best (10 points), a strong and aggressive player during the majority of the game.  Best blocked Kelly's first shot of the game and dunked on the other end the next time down, but Kelly settled in nicely to lead his team in scoring after that.  In fact, Ryan had 7 of his teams first 8 points as they struggled offensively to open the game.
Like Kelly, Scheyer and Plumlee helped lead their team to a comeback victory after being down 13 points in the first half.  Scheyer started the game 0-3 where the ball just seemed to rim out for him.  One of those plays still brought oohs and ahs as Plumlee missed a dunk and Jon jumped up and almost flushed it home on the tip, but it caromed out as the basket gave way.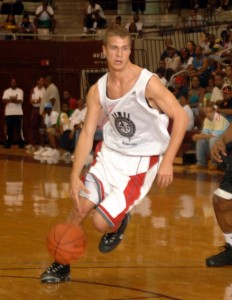 Scheyer played a good floor game, showing he can run the point as he did last season, despite playing in a three guard offense.  After missing his first free throw, he connected on the second and went 4 of 5 from the stripe in the game.  One the next possession he connected on a three pointer and missed just one shot the rest of the way in route to 12 points.  Scheyer also dished 4 assists and at least 4 blown assists.
Scheyers best offensive move was on the baseline where he weaved through and faked out three defenders to hit a shot at the first half buzzer capping off a comeback and giving Team Duhon momentum the rest of the way.
Mason Plumlee was saddled with early foul trouble but had two dunks early in the game and was 4 of 4 from the free throw stripe.  He altered a few shots and grabbed around 6 boards.  His Team Duhon won the game going away in the end 76-69.  Plumlee was credited with 8 points, but their was one tip which seemed as if it were credited to another player.
On a couple of side notes, BDN ran into Robert Brickey who has accepted an assistant coaching position at North Carolina Central.  Kyle Singler was not in the house for he's attending the LeBron James Skills Academy, a huge Nike event that BDN's Andrew Slater is covering for our subscribers.  Slater has an interview coming with Singler where our
members sent in the questions which will run in our free section.  He has secured interviews and scouted some of Duke's main prospects as well.  Among the players mentioned are Roscoe Smith, Harrison Barnes, Andre Dawkins.  Coach K, Wojo and Nate James are watching the Nike event as I type.  For more the latest breaking information, join Blue Devil Nation Premium.
Thursday NC Prom Am Schedule at NCCU, admission is free -
6 pm Navy vs KG
7 pm Lucky 7 vs Team Duhon (M. Plumlee, Jon Scheyer, C. Du)
8 pm WR Starkey (L. Thomas, Kelly, Curry)  vs Team PJ Tucker
9 pm Dreamworks vs E-Net (Singler, Miles Plumlee)
Not all players participate each evening