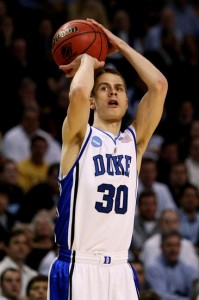 durham, n.c. – Seniors Jon Scheyer and Lance Thomas were named team captains for the 2009-10 men's basketball season, head coach Mike Krzyzewski announced on Thursday. Scheyer was a team captain last season, while Thomas has garnered the honor for the first time.
"Jon and Lance have both been great leaders on and off the court for our program," said Krzyzewski. "Jon has a great approach to the game and is one of the most consistent performers in practice and during games. Lance brings a work ethic and fiery competitiveness that teammates rally around. Both players are strong leaders individually and will be even stronger together."
Scheyer, a Northbrook, Ill. native, was one of three captains last season on a team that went 30-7, claimed the ACC Tournament Championship and advanced to the NCAA Sweet 16. He joined the 1,000-point scorer club at Duke a year ago and now ranks 32nd all-time with 1,349 career points. Scheyer, the 2009 ACC Tournament MVP, averaged 14.9 points per game to rank third on the team last season, while leading the team in minutes (1,214), three-point field goal percentage (.385), assists (102) and steals (58).
Thomas, out of Scotch Plains, N.J., has played in 100 career games with 62 starts. He averaged 5.3 points and 3.6 rebounds per game last season and led the team in field goal percentage (.626). In his career, he has 13 double-figure scoring games, 53 steals and 33 career drawn charges.
Duke will begin the 2009-10 season on Oct. 16 at 7:30 p.m. with Countdown to Craziness in Cameron Indoor Stadium.