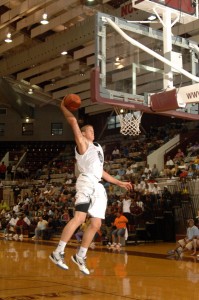 It wasn't that long ago when Mason Plumlee committed to Duke during his junior season at Christ School Arden.  At that time, his brother Miles was slated to go to Stanford but a coaching change allowed him to open his recruitment back up and he too decided Duke was the school for him.  The brothers who have played together during their basketball careers will reunite this season in Durham.
Mason quickly became the talk of many a Duke fan and his ranking soared as did his confidence on the hardwood.  He teamed with his brother to win the state championship and when Miles entered Duke, Mason still led Christ School to another state title.  In following Mason on the AAU circuit it was clear that this blooming big man possessed great skills.  He possess a great handle and is way ahead of the curve as a passer, a trait rare for a kid his size.
According to his Father, Perky Plumlee, Mason and his sons are late bloomers physically, but one look at the incoming freshman's legs lets one know that this is going to be a solidly built young man as he develops.
During the summer, Mason participated in the N.C. Pro Am where he went up against the triangle areas best players and several NBA players.  Mason was a hit with the crowd for he finished strong around the basket and seemed to mesh with his teammates to make a few showboat plays along the way.
Mason saved his best game for last during the Pro Am where he nailed 28 points to go with 13 rebounds, 4 blocked shots and 4 assists.  The young freshman has a good inside out game but he is expected to man the paint in his first season which will allow for Kyle Singler to float out and play his natural position.
Having a center who can do multiple things on the court will certainly give Coach K a lot of options in 2009-10.  You can still expect Mason to have the ball in his hands despite his position in that he has a knack for getting the ball to the right player at the right time due to his unselfish play.
His addition should also benefit his brother Miles, in that the two know where one another wants the ball.  But the thing which stands out to the casual observer is his tenacity, something that comes natural for Mason.
During last seasons Glaxo Invitational, Plumlee led his team back into one game single handedly as Coach K and his assistants Wojo and Chris Collins watched.  One one play, Mason threw the ball of the backboard caught it and dunked all in the same motion.  While Krzyzewski will not allow those kind of plays it showed his athletic prowess.
Much is expected from Mason this season and the lofty expectations could be hard to reach, but rest assured that the middle of three Plumlee brothers will be up to the challenge.  The one thing Mason will need to watch is his aggressiveness sometimes gets him into foul trouble and it will be important for him to be on the court in critical and or close games.
Despite that minor quibble, Duke has enough depth to protect it's front court players.  Duke fans will soon get their first look at Mason and they'll then see what all the talk has been about on this site and in the Duke community.
Like all freshman, Mason will have to learn the Duke system and adjust to the speed of the college game and the rigors of a long season, but in my opinion, Duke got their next front court star and it'll be fun watch his development throughout his career.