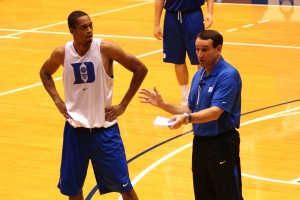 Game 2 l NIT Season Tip-Off First Round
Duke (1-0) vs. Coastal Carolina (1-0)
Monday, Nov. 16, 2009 l 7:02 p.m. l ESPNU
Cameron Indoor Stadium l Durham, N.C.

The Opening Tip
Duke (1-0), ranked ninth in the AP preseason poll and eighth in the ESPN/USA Today Coaches' Poll, faces Coastal Carolina (1-0) on Monday, Nov. 16 at 7:02 p.m. in the opening round of the NIT Season Tip-Off. Monday's contest will be televised by ESPNU with Mike Gleason and Jimmy Dykes calling the action.
The Last Time Out
Duke opened the season with a 96-62 win over UNC Greensboro on Friday, Nov. 13 at Cameron Indoor Stadium. Junior Kyle Singler led five double-figure scorers with 20 points for the Blue Devils. He was 9-of-15 from the floor and added five rebounds, two assists and two blocks in the win. Senior Jon Scheyer closed the game with 18 points and four assists, while Brian Zoubek had 14 points and seven rebounds. Duke also received double-figure scoring efforts from Lance Thomas (14) and Miles Plumlee (10).
Series History
Duke and Coastal Carolina are meeting for the first time on Monday.
NIT Season Tip-Off History
Duke is 18-2 all-time in the NIT Season Tip-Off tournament, including a 10-0 mark in first and second round games played at Cameron Indoor Stadium. The Blue Devils have won eight straight games in the tournament. Duke won NIT Season Tip-Off championships in 1985, 2000 and 2005.
Numbers Game
The Blue Devils have won an NCAA-best 69 consecutive non-conference home games.
Duke is 23-2 in in-season tournaments over the past nine seasons. The Blue Devils have won seven straight in-season tournament games.
The Blue Devils have won 13 straight games and are 26-9 all-time against Big South opponents.
Duke has won 29 straight home games against unranked opponents, dating back to a 68-67 loss to Florida State on Feb. 4, 2007.
Jon Scheyer (1,367 points) and Kyle Singler (1,080 points) are the highest returning career scoring tandem in the ACC with 2,447 career points. The duo combined for 38 points in Duke's season opening win over UNC Greensboro.
The Blue Devils shot .597 (37-of-62) from the field against UNC Greensboro, their highest field goal percentage since Dec. 17, 2007 when they shot .603 (38-of-63) against Albany. The 37 made field goals are also the most since that game.
Senior Jon Scheyer had 18 points and four assists (zero turnovers) in 37 minutes against UNC Greensboro. He is now averaging 18.5 points per game since becoming Duke's starting point guard with 12 games remaining in the 2008-09 season. Scheyer also has 33 assists and just 14 turnovers (2.4:1 assist-to-turnover ratio) in that span.
Sophomore Olek Czyz recorded career highs in minutes (24), points (6), rebounds (6), assists (3) and steals (2) in the win over UNC Greensboro. Czyz, a native of Gdynia, Poland, scored all six points off dunks on Friday.
Duke posted a 44-26 rebounding edge in the season opener against the Spartans. Five players grabbed five or more rebounds with Miles Plumlee leading the way with nine boards.
The Blue Devils grabbed 15 offensive rebounds on 30 missed shots (25 from the field and five from the foul line) on Friday.
Duke senior class of Jon Scheyer, Lance Thomas and Brian Zoubek
combined for 44 points, 17 rebounds, eight assists and four steals in the season opener. The trio was 15-of-23 (.652) from the field and 12-of-14 (.857) from the foul line in the win.
Freshmen Andre Dawkins and Ryan Kelly each had eight points, three rebounds and a blocked shot in their collegiate debuts.
Sophomore Miles Plumlee had career highs in points (10) and rebounds (9) and also matched a career best with three blocks against UNC Greensboro.
Duke is 47-14 (.770) when ranked ninth in the AP poll. The Blue Devils have won six straight games when ranked No. 9 in the country.
Monday's game will be the final game of a two-game suspension for junior guard Nolan Smith. Smith is serving a suspension for a violation of rules pertaining to summer league participation.