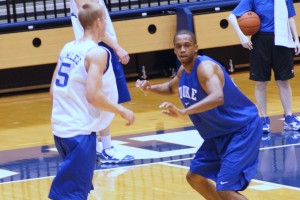 Game 15
[5 AP/5 Coaches] Duke (13-1, 1-0 ACC) vs. [20 AP/17 Coaches] Georgia Tech (11-3, 0-1 ACC)
Saturday, Jan. 9, 2010  •  2:00 p.m.  •  ESPN
Alexander Memorial Coliseum (9,191)  •  Atlanta, Ga.
The Opening Tip
Duke (13-1, 1-0 ACC), ranked fifth in the AP poll and ESPN/USA Today Coaches' Poll, faces Georgia Tech (11-3, 0-1 ACC) at Alexander Memorial Coliseum on Saturday, Jan. 9 at 2:00 p.m. The Yellow Jackets enter the game ranked 20th in the AP poll and 17th in the Coaches' Poll. Saturday's game will air on ESPN with Brad Nessler and Jay Bilas calling the action.
The Last Time Out
Duke is coming off an 86-65 win over Iowa State at the United Center in Chicago, Ill., on Wednesday. Senior Jon Scheyer netted a game-high 31 points on 10-of-19 shooting from the floor. He knocked down four three-point field goals for his fourth straight game with three or more treys.
Nolan Smith recorded his fourth 20-point game in the last five outings with 20 points on 7-of-10 shooting from the field. He knocked down both three-point attempts and is now shooting an ACC-best 53.2 percent from behind the arc. Smith also matched a career high with three steals in the contest.
Junior Kyle Singler continued his all-around solid play with 15 points, eight rebounds, four assists and two steals. Lance Thomas added nine points on 4-of-5 shooting, while limiting Iowa State's high-scoring forward Craig Brackens to 12 points on 4-of-10 shooting.
Duke shot 56.0 percent (14-of-25) from the field and made all 12 free throws en route to outscoring Iowa State, 45-32, in the second half of play.
Numbers Game
l Duke has won 22 of its last 23 games in the month of January. The Blue Devils are 201-55 under Mike Krzyzewski in January games.
l Senior Jon Scheyer leads the NCAA in assist-to-turnover ratio (4.58:1) while playing 35.3 minutes per game. He has led Duke in assists in all 14 games with six turnover-free games. Scheyer also ranks eighth in the NCAA at 6.2 assists per game.
l Nolan Smith has 25 three-point field goals and is shooting an ACC-best 53.2 percent from three-point range. In the last five games, he is 15-of-21 (.714) from behind the arc.
l Jon Scheyer is averaging 23.6 points, 4.0 rebounds and 7.3 assists per game during Duke's current seven-game win streak. He is shooting 47.4 percent from three-point range and averaging 3.9 three-point field goals per game in that span.
l Junior Nolan Smith has scored 10 or more points in all 12 games he has played. He is averaging 18.5 points per game, a 10.1 ppg. increase from a year ago. Smith also has six 20-point efforts in 2009-10 after posting one 20-point game in his first two seasons at Duke.
l Jon Scheyer and Nolan Smith are averaging 42.9 points combined, while shooting 52.7 percent (97-of-184) from the field and 53.7 percent (44-of-82) from three-point range during Duke's seven-game win streak.
l Duke has had 17 individual 20-point scoring games this season. The Blue Devils have had multiple 20-point scorers in the same game six times on the year.
l Junior Kyle Singler has led Duke in rebounding seven times in 2009-10 and 43 times in his career. He has grabbed eight or more rebounds in four of the last five games.
l The Blue Devils are 3-0 against ranked opponents this season and 168-116 under Coach K against ranked foes.
l Duke limited its three previous ranked opponents (Connecticut, Gonzaga, Clemson) to 51.0 points per game. The Blue Devils held those three teams to 32.7 percent (53-of-162) shooting from the field, including 13.3 percent (4-of-30) shooting from three-point distance.
l Jon Scheyer and Kyle Singler were two of the 30 players recently named to the Wooden Award Midseason Watch List.
l Duke has won 11 of the last 12 meetings  at Alexander Memorial Coliseum.