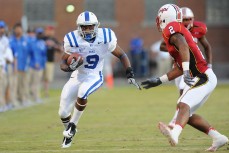 The Blue Devils (3-7, 1-5 ACC) travel to Atlanta to take on the defending ACC Champion Georgia Tech Yellow Jackets (5-5, 3-4 ACC) on Saturday in Bobby Dodd Stadium. Kickoff is scheduled for 1:30 PM ET and will be broadcast on ESPN3. Duke is looking to bounce back after a tough loss to Boston College, while the Jackets look to snap a 3 game losing streak and secure bowl eligibility.
DUKE IN WEEK 11
The Blue Devils fell to Boston College, 21-16 last Saturday in Wallace Wake Stadium, as Duke's late 4th quarter drive came up 4 yards short in the final minute. The Duke defense yielded 103 yards and a touchdown to the ACC's leading rusher, Montel Harris, but it was the 230 yards and 2 touchdowns for freshman Chase Rettig that made the difference. The Blue Devils' offense failed to find the end zone all day, and the Duke running game was completely shut down by the Eagles' defense. Duke's lone touchdown came early in the 4th quarter, as Walt Canty forced a fumble by Montel Harris at the 5 yard line, which was recovered by August Campbell and returned 95 yards for the score. It proved to be too little, too late, as Luke Kuechly and the Boston College came away with the victory.
GEORGIA TECH IN WEEK 11
The Ramblin' Wreck dropped a 35-10 decision to the Miami Hurricanes last Saturday in Atlanta. Tevin Washington made his first start for the Yellow Jackets in place of the injured Josh Nesbitt and threw for 101 yards and led the team in rushing with 122 yards. The Jackets' only touchdown came on a 22 yard pass to WR Kevin Cone in the 3rd quarter. The Hurricanes' offense, led by freshman Stephen Morris, put up 5 touchdowns and over 500 total yards on the Georgia Tech defense, including 4 rushing touchdowns and a 79 yard catch by Leonard Hankerson.
ANALYSIS
Inspired by Coach Cutcliffe's "Seven Key Factors to Football Success," we've taken a different approach to breaking down this week's matchup.
Turnovers
The statistics here are pretty simple. The Blue Devils have forced 6 turnovers in their 3 wins, while giving away just 1; in their 7 losses, Duke has forced just 10 turnovers, and given the ball away 23 times. When Duke wins the turnover battle, they usually win this year (the Alabama game being the lone exception). For the Yellow Jackets, the turnover story has not been as dramatic, and the Jackets enter the game having forced 17 turnovers and committed 17 turnovers of their own.
Sacks
The Blue Devils have struggled to get penetration into the backfield all season, and rank last in the conference with just 9 sacks; however, 5 of those sacks came in Duke's 3 wins. Georgia Tech has 15 sacks this season, but has not recorded a sack during their current 3 game losing streak. If Georgia Tech continues this streak, the Blue Devils should have success moving the ball through the air and on the ground. If the Yellow Jackets are able to penetrate the Blue Devils' offensive line, Alex King may have a long day.
3rd Down Production
Offensively, this is another telling statistic for the Blue Devils in 2010; in their 3 wins, they converted on 61.4% of 3rd downs, while in their 7 losses, they converted just 37.2%. On the season, Georgia Tech has allowed opponents to convert about 40% of third down opportunities, and the Blue Devils will have to convert at least that to sustain drives on Saturday. Conversely, Duke has allowed opponents to convert 39.8% of 3rd downs, which is right about what the Jackets average.
Explosive Plays
Unfortunately, this is a difficult statistic to calculate, as Coach Cutcliffe defines an explosive play as a pass of 16 yards or more, and runs of 11 yards or more. For those that have watched the Blue Devils, though, it's clear that this has been a statistic that has doomed the Duke defense. Last week against Boston College, Duke gave up 3 explosive runs and 6 explosive passes, and these plays accounted for 2 of the Eagles' 3 touchdowns. Facing a big, physical back like Anthony Allen is not a favorable matchup for the Blue Devils, and they will have to minimize his explosive play ability.
Rushing TDs
Duke has face two option offenses already this season, and gave up 5 total rushing touchdowns. The Yellow Jackets are extremely adept at scoring on the ground, as their #1 ranked rushing attack has accounted for 24 of the offense's 32 touchdowns this season. The Blue Devils are fortunate in that they will not have to face QB Josh Nesbitt, who leads the Jackets with 10 rushing touchdowns, but will still have their hands full with Allen, Orwin Smith, and Roddy Jones, a trio which has accounted for 12 rushing TDs this season. Offensively, Duke has significantly improve their rushing attack from a season ago, but still rank last in the ACC in rushing. In their 3 wins, the Blue Devils have scored 12 rushing touchdowns; if Duke is able to run the ball into the end zone, the statistics say it will help their chance of winning.
Field Goals
In the event of a close game, missed field goals can come back to cost a team. Luckily for both Duke and Georgia Tech, their kickers have been nearly flawless in 2010. Scott Blair is 12/14 for the Jackets, and Will Snyderwine is 18/19.
Penalties
The Blue Devils have done a nice job of not beating themselves most of the year, entering the game averaging fewer than 5 penalties per game. The Yellow Jackets have averaged over 6 penalties per game, including 16 total penalties in their last two games. If Duke can stay disciplined, Georgia Tech may help to sustain some Blue Devil drives.
PREDICTION
In general, Duke has struggled against the run this season, yielding almost 200 yards per game on the ground, but they have had some success against the option. Anthony Allen is the type of big, physical back that has given the Blue Devils trouble all season, and the trend is likely to continue Saturday. Georgia Tech has struggled at times defensively this year, and the Blue Devils should be able to move the ball with a balanced attack. If Duke is to come away with a victory, they will need to have big days from their Scott, Snead, and Connette, and may need some help from Georgia Tech QB Tevin Washington, who will be making just his second career start.
GT 34
Duke 24