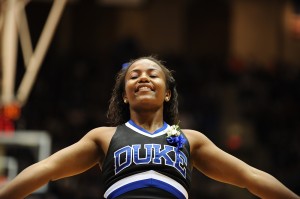 Durham, N.C. -   With it being the first day of March and the first day of the week,  it's time for another addition of Monday Musings.
Duke caught a break last evening when Virginia star Sylvan Landesberg sat out the game  due to a deep thigh bruise. But hey, let's be real here, Landesberg would have made the Cav's more competitive but there was no way Duke was going to blow this game and that was evident early in the game when Kyle Singler dived four rows into the stands for a loose ball.  The lop sided score afforded the Blue Devils an opportunity to steal a lot of minutes for the Plumlee's, Dawkins and Kelly and that means experience and saving the starters legs  for the week that lies ahead.
And what of the week that lies ahead?  Well, let's start with the fact that Duke takes on both it's ACC assigned rivals in Maryland and North Carolina.  That means that Duke and Krzyzewski will be in the limelight in a big way and what more could a Duke fan ask for than to carry a 12-2 ACC mark and a 25-4 overall record into the most exciting week of the regular season?
Okay, who would have thought that the Maryland game would be bigger than the North Carolina game before the season started?  It's really simple in that if Maryland wins, they are tied with Duke for first.  If Duke wins, they clinch the ACC regular season title.  So, while the Maryland game is bigger, should Duke lose, the UNC game still looms large as ever in that a Duke win combined with a Terp loss would still give the Blue Devils regular season bragging rights going into the ACC Tournament.  So beating Maryland would clear up a lot of the drama for the Dukies.
So, it's Greivis Vasquez vs Jon Scheyer for the ACC Player of the Year Award.  Well, it is hard to argue that Wednesday's showdown will play a role in voters minds.  Scheyer appeared to be the front runner early on, but Vasquez has closed the gap and perhaps moved ahead with his 41 point effort vs Virginia Tech.  Expect a media barrage playing up the match up as the week progresses.
It's still Carolina!  All of a sudden UNC looks as if they are finally adjusting to one another in an effort to make a late season tournament run.  Of course, they can still make the NCAA's by winning  the ACC Tournament which is just ten days away.  One thing is certain, that being Duke cannot and will not look ahead to the game.
ESPN Game Day will of course be on campus for the finale and Duke needs to take advantage of the opportunity to show the world Duke Basketball is alive and well.  After losing Harrison Barnes in a heated race, there seemed to be a concession among some fans.  UNC after all had last years top recruiting class and scored again for the year ahead, but looks can be deceiving and to count any Coach K team out is to show ignorance.
Did I mention Kyrie Irving yet?  His team finds out today if they are eligible for the play offs and if they are not his seson is done save the McDonald's All American Game.  Irving once gain out on a show yesterday and anyone who was able to see his interview on NESN realizes just how special this kid is.  Recruiting news is about to pick up for BDN Premium members as the AAU season is fast approaching.
Despite Duke's success this season, some fans seem jaded.  It's time to wake up and realize Duke is where every other ACC team would like to be, fighting for titles.  Amazingly, this carries over to the local media as well where all they seem to talk about is Duke's short comings will catch up to them.  Of course, turning local talk radio off is a start unless you want to be ram fed the Gospel by folks that are area transplants.  It's like me moving to New York and passing myself off as a Yankee's expert just because I have followed them from afar.  Yep, some of the talk show hosts have no clue or understanding of the history of the ACC or the inner workings.   If you need a fix just tune in to hear Adam Gold claim Purdue, a team which Duke pummeled in their own gym the year before is in another league than Duke.  "Have you seen them play?," roars Adam unwillingly jinxing the loss of a key Boilermaker starter;) No, Duke cannot beat anyone away from the ACC.  The ACC is down and Duke is just not that good.  Well guys, they keep winning, don't they?  And it's not like the nation is full of great teams.  But if Gold says it, you can count on it being forgotten in 24 hours of late.  But there is always two days discussion on whether or not N.C. State should use a real wolf as their mascot.  Now, that's entertainment!   You see, that is the problem.  It's like all the hostsare losing their foresight and simply base their opinions on what just happened.  Wake was coined the ACC's second best team one week ago  and the next they are so in the middle of the pack, well, never mind, it's time to move on to the next spill.  The one exception to the rule is David Glenn of ACC Sports Journal.  He is less shock journalism and more down to earth than his counterparts.
Yeah, that was a mini rant and nothing personal towards Adam, just wishing he would get a new shtick.  Besides, I listen to like 5 minutes a day of talk radio and may have missed the good stuff.  Okay, okay ...  That brings me to Senior Day.  Before Lance Thomas, Brian Zoubek and Jon Scheyer can enjoy theirs, they must try to fend off the emotion it brings when they travel to Maryland for that is Vasquez's farewell.  Another reason this Wednesday's game will be as intense an atmosphere as there is.
Saying farewell in Cameron to Scheyer, Thomas and Zoubs will indeed be emotional and to close against your arch rival North Carolina just adds to it.  There is no doubt that the play of the seniors has keyed Duke's eight game winning streak and these guys are proving to be special.  It'll be especially hard to see Scheyer go for he has had an incredibly consistent career and has done everything Coach K asked of him in that time.  I mean, the guy learned the point guard position and he is pretty good at it, huh?
Had Duke been losing like UNC this season, would you be hearing more about it?  Just food for thought.  With UNC having a down year this does indeed effect the ACC Tournament even in Greensboro, clearly the best venue you can ask for.  The second UNC loses, tickets will be available outside the arena in droves.  If Duke and UNC should lose early on, the attendance will rival that of the ACC Football Championship, but that's a gripe for another day.
Finally in the prediction department ... look for Kyle Singler to play his way onto first team All ACC in the coming week.  After being pre season player of the year, Singler has seen some of his numbers drop while learning a new position.  But he has played well of late and a couple of wins and decent performances should land him in a spot where there is a bit of a log jam for the final spots.
Please sign up for a free IPOD or phone app from our new partners.  It is free all of this week, so go to the add and have access to BDN and more on Duke Athletics.