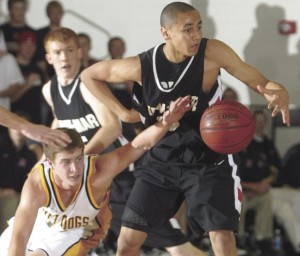 One of the most unselfish point guards playing on the AAU circuit is Iowan Marcus Paige, a 6-0, 160 pound point guard.  Paige plays on one of the AAU's top teams but with them playing the vast majority of their games in middle America, a lot of scouts and recruiting types don't get to see a lot of him.  With just a couple of views, it would be hard for me to properly assess his game, but it is easy to see why the smooth, unselfish prospect is starting to hear form a lot of schools.  Paige is an exceptionally strong student in the classroom as well giving him pretty much the whole package. BDN sat down with Paige for an in depth getting to know you interview and here is what Paige had to say -
Describe your game in your own words?
Well I like to think of myself as a floor general to get the right guy the ball to scorers or whoever has the hot hand.  When it comes down to it, I can score with the ball myself.  What ever my team needs me to do to win,  I consider myself a winner.
How about a little background, like where you were born, etc.
Born in Ceder Rapids Iowa and raised in Marrion right outside of Ceder Rapids.  You know, not much going on in Iowa, just working on my game there.
In the middle America, huh?
Yeah, a couple of cornfields.
Well, Harrison Barnes put them on the map and you're playing well.
Yeah [smiles]
Which schools are actively recruiting you?
Yeah, I have about five offers and a lot of schools have called when they could the other day [private].
And they are?
Minnesota, Illinois, Iowa, Iowa State and UNI.
Will proximity play a role in your ultimate decision?
Well, no for me not really.  I don't have a problem with getting out and maybe going to the east coast.  It won't really effect my decision at all.
I'm from ACC country.  Are any ACC schools getting involved?
Yeah, actually Virginia has been really, really interested.  I will stay after the camp and I have talked to Coach Bennett and they're pretty interested.  Also, Miami called and seem interested, so starting to get some ACC looks, yeah.
I suppose it is a bit early in the process but have you thought about when you might make a decision?
Yeah, I would consider it somewhat early but I don;t want to be one of those guys who drags it along.
No Skype for you?
[laughs] No, no, I don't need any of that.
What are you like off the hardwood? 
I like to hang out with a small group of friends that I have but mainly a lot of ball.  I like to be around my family.  My sister, she just moved out and she will be playing at Wisconsin as a freshman this year, so I like to hang with my family and basketball people.
Where did you learn your basketball skills?
Both my mom and my Dad played basketball at small schools and my mom is my high school coach in Marion.  I kind of grew up around the game and watching the NBA.  My Dad has the Jordan games recorded, so studying the game from a young age.
Did you have a dream school growing up?
I grew up as a UNC fan.  I was a huge Vince Carter guy and I have always been my dream school, so we'll see.  They've sent a couple of letters and my coach talked to one of their assistants but nothing serious yet.
What about the other side of the spectrum, that being Duke?
You know I'm a pretty good student with a 4.0 and a school like Duke with academics and almost everybody who comes out of there is successful and the great tradition that they have it would be hard not to look at a school like Duke if they came on.
Do you pattern your game after anybody?
I watch a lot of different guys but I don't pattern my game after any one particular player.  I learn things from watching Chris Paul and Jason Kidd and how he is so unselfish and gets the job done.
The toughest guy you faced during the NBAPA Top 100 camp would be?
Mike Kobango, I thought I did alright against him though.
What can you take away from the camp?
On or off the court?
On the court.
I think I improved as a defender here because I had to guard so many players.  I worked with Chris Duhon a lot on how to defend ball screens and that is something I will take back.  And Kevin Ollie was my coach and his teaching for me will go a long ways.
Do you feel being here as a rising junior gives you an edge over others in your class?
Yeah I think it gives all the young guys here an advantage and they have a chance to do it again next year.  Just learning how to develop skills from the best is a nice advantage to have,
Who will play major roles in your eventual decision?
My close family, my mom and dad and maybe my AAU or high school coach.
How important is immediate playing time for you?
That's something that makes a school more appealing but I have to come in a learn for a year and then run the team in my sophomore year is great but playing right away is something I want to do.
And you play AAU ball for ...
Martin Brothers.
That's why I haven't seen you play a lot in that your team stays in the mid west.  Have you ever thought about playing with another team?
Another team?'  It would be nice to go to some tournaments like Boo Williams and Peach Jam.  The Iowa team we have is pretty good, we won secondplace in the showcase last year.  Yeah other than middle America it's hard to catch us.
Where will you go from here?
Milwaukee first and then Chicago and the AAU Nationals.
What are you looking for in a coach?
I just want to have a good relationship with a coach who will push me not just say positive things but one who will make me the best player I can be and where I can have a great relationship with thew whole staff.
Thanks for your time.
Yeah, no problem, thank you. [/private]
'