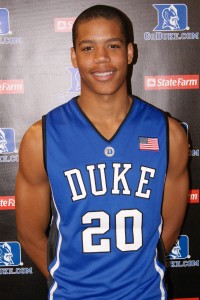 DURHAM - The Blue Devil Nation participated in a question and answer session with rising Duke sophomore Andre Dawkins who talks of his off season work and what he hopes to accomplish this coming season.  Our questions are marked [BDN].
You look as if you grew an inch?
I don't know for sure I haven't measured.
But you look like you put on some bulk.
Yeah, I'm trying to get in the weight room.
[BDN] What have you been doing over the summer?
I've just been working on my overall game but obviously focusing on handling the ball better and just get in really good shape so I'm ready to go.
[BDN] Duke can actually put a lineup on the floor that has five guys who can nail the three next season and you'll have Kyrie dishing you the ball.  Are you excited at the possibilities?
It should be fun.  I think certain lineups we'll put out there it'll be hard for teams to guard.  Even with three or four shooters and when Kyle is playing on the wing, we have enough shooters to knock down the shots.
Mark mentioned Kyrie.  Have you seen him play?
We've played against each other before on the AAU circuit before I left a year early, so I've seen him a lot and he has a chance to be a really good player here.  He can really get out on the break and he loves to do that and even our bigs can get out and run you know, so it should be really exciting.
[BDN] Have you been working out at Duke and what did you do over the summer?
I've really just been at home working out, trying to lift in the mornings and go to the gym after that and get another workout in at night or play pickup.  When we went up to see President Obama I stayed with Nolan for a week and worked out with him.
Did you talk with former Boo Williams teammate James McAdoo and if so what did you say to him with concern to leaving school a year early?
No, I didn't talk to him but it obviously didn't work out for a reason but I didn't talk to him.
[BDN] Are you happy with your decision to come in a year early as a freshman?
Uhm, yeah I think it worked out fine.  I mean not everybody is going to come in and win a national championship in their first year, so that might put a little more glitter in it than it should but I think it worked out for me just fine.
Coach K said Ryan had grown and is weighing in at 230 pounds ...
I haven't seen Ryan, I just got back two days ago but Miles has been consistently getting bigger so it should be exciting.
Do you feel better prepared having a year under your belt going into next season?
I would hope so.  I know what the coaches are expecting, you know, in practice and workouts and things like that.  I just have to be consistent.
[BDN] Coaches sometimes meet with players before they leave school and tell them what to work on, did you talk to coach and if so, what was said?
I talked with Coach Collins after the season was over and he told me to work on my ball handling and get in better shape for those were the two points that kind of held me back last year.
How many times have you watched the national championship game this off season?
I have actually only watched it like twice.  I really don't like to watch it because every time I do I thinks that shots going to go in, so I try to stay away from it. [brought a good laugh from media members]
[BDN] Did a lot of people at home come up and talk of the title?
Being at home is always humbling and we don't talk about it much but it is always cool to have people coming up and congratulating you and talk about what a great year we had.
[BDN] Your good friend Kendall Marshall will be a freshman at UNC, did you razz him a bit pumping your ring at him?
I talked to him a little bit.  He's a good friend and he wasn't bitter so I didn't rub it in too much.  I mean they won it the year before so ...
[BDN] What suggestions can you offer him going into his freshman season?
Really just stay focused.  There will be times when you don't know what to do because you don't know what the coaches want but just listen and work as hard as you can.