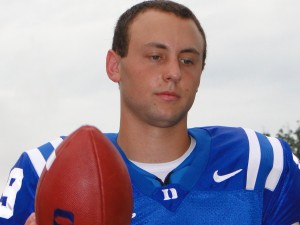 This article was co-authored by Patrick Cacchio.
Duke football will be playing their third season under Coach David Cutcliffe in 2010 and quarterback development will be a key element to success. In his first two seasons at Duke, Coach Cutcliffe has guided the Blue Devils to a record of nine wins and 15 losses. Those nine wins came with four year starter Thaddeus Lewis calling the signals. This season Duke's first challenge will be to fill Lewis' big shoes if they are to have continued success toward rebuilding the football program into a contender. Coach Cutcliffe recently stated, at an appearance in Winston-Salem, "For this particular team, the obvious concern is our quarterback play." There is no better coach than Coach Cutcliffe to lead the quarterback development effort as developing quarterbacks is his specialty. "We've got some talent at the quarterback position," Cutcliffe said this spring, "but three of the guys are freshmen - one redshirt and two true freshmen."
Sean Renfree (6'3" 210) is currently projected to be Duke's starting quarterback. Renfree redshirted the first year Coach Cutcliffe was in Durham and played in six games last season connecting on 34 of 50 pass attempts for 330 yards, and four touchdowns with two interceptions. Renfree underwent rehabilitation over the winter for a torn Anterior Cruciate Ligament in his right knee he suffered in the game against Georgia Tech last November. Though he was limited in Spring Training, Renfree was able to participate in passing drills, continuing to impress the staff with his strong arm, "throwing the ball much better than any time he's been here." He is now a full participant in off season workouts. Coach Cutcliffe recently stated, "He's at full speed….the guy is a machine."
Renfree will most likely be the starter when Duke tees it up and kicks off the season against Elon on September 4th.
Three quarterbacks will be in the running for the backup quarterback position:
Sean Schroeder (6'3" 185) redshirted last season so he has the advantage of a year in the system. During the 2009 season, Schroeder routinely took snaps with the first team offense while Thad Lewis nursed injuries. In the Blue-White scrimmage, Schroeder struggled to find a rhythm with his receivers, connecting on four of 20 throws for 23 yards. Throughout the spring, Schroeder impressed the coaching staff with his mobility, but at times struggled to adjust to the speed of the game.
Brandon Connette (6'2" 210) is a true freshman who enrolled at Duke in January 2010 and quarterbacked the Blue Team to a 24-3 victory in this Spring's Blue-White Scrimmage. In post game comments, Coach Cutcliffe stated, "The play of Brandon Connette stood out, as it has in a lot of scrimmages." Connette rushed 12 times for 91 yards and a touchdown and threw for 67 yards including a six yard touchdown pass to Tyree Watkins. Connette's ability to run with the ball may propel him past Schroeder on the depth chart. During the course of spring practice, Coach Cutcliffe was impressed with the "unbelievable progress" Connette was able to make as a true freshman.
Anthony Boone (6'1" 225) will be a true freshman at Duke this fall, and will also be given an opportunity to win the backup quarterback job. Boone attended Weddington High School in Monroe, NC passing for 1530 yards and 13 touchdowns while rushing for 780 yards and 11 touchdowns as a senior. Despite his strong frame, Boone has shown the ability to be a dual-threat and make plays outside the pocket. Boone enrolled at Duke for the first summer session and is already on campus, participating in early workouts.
Improvement in the running game would go a long way in taking some of the heat off of Duke's young signal callers. In 2009, Duke averaged 368.5 yards of total offense per game, however, only 63.5 yards per game came via the ground. In 2010, experience on the offensive line will be a strength which should help improve Duke's ability to run the ball. Sophomore Desmond Scott and freshman Josh Snead, along with junior Jay Hollingsworth, provide the Blue Devils power, speed and talent in the backfield. Snead was impressive in spring practice, demonstrating an ability to "hit the hole unbelievably quick and with no fear," according to Coach Cutcliffe.
With the experience and depth Duke has in their receiving corps, airing the ball out on offense will remain a main strategy so the offensive line will need to provide the young quarterbacks time to throw the ball to Donovan Varner (65 catches in 2009), Conner Vernon (55 catches), Austin Kelly (54 catches), and the other members of the receiving corps.
Four of five offensive line starters return in 2010, along with a talented group of young redshirt freshmen. Senior center Bryan Morgan (6'3" 255) has started 24 straight games, totaling 2,017 career snaps, which is the most among active players. Tackle Kyle Hill (6'6" 285), guard Brian Moore (6'3" 275), and guard Mitchell Lederman (6'7" 305) are the other returning starters to a unit that finished third in the ACC in sacks allowed per pass attempt in 2009. Guard Brandon Harper (6'3" 305) also has starting experience. This spring, Coach Cutcliffe challenged the starting offensive linemen to lead the Blue Devil offensive attack, and was pleased with their progress: "I like our first offensive line right now. I'm more than pleased with their knowledge; they're stronger, they're quicker. We're better across the board there." For the first time in Coach Cutcliffe's tenure, the Blue Devils will have strength in numbers along the offensive line, which should help to keep the units fresh. "I also like what our young linemen have done," he said this spring, "I think for the first time since we've been here we're building a little depth." Success on the gridiron starts at the line of scrimmage and Duke's young quarterbacks are going to need the experienced guys along the offensive line to win the battles in the trenches this coming fall.
Duke has the pieces in place, talent and depth at receiver and running back, experienced lineman upfront; however, if Duke is to improve on last year's 5-7 record they will need their quarterbacks to develop into solid performers capable of consistently making good decisions, executing Coach Cutcliffe's game plan with precision, and leading the Blue Devils to victory. With a roster that includes 54 underclassmen, the young Blue Devils will need Sean Renfree to step up as a leader under center.