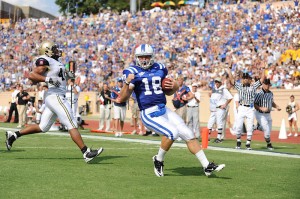 DURHAM - You simply cannot turn the football over five times in a game and compete and the Duke Blue Devils learned that the hard way today in a 35-21 loss to Army.  An early Sean Renfree interception led to a quick Army score and the Blue Devils could never regain their footing to stay in the game or later mount a comeback.
You could point to many areas where Duke lost this game and if they had simply protected the ball, they would have been in the game with a chance at victory.   While the season is far from over, it has become obvious that Duke is rebuilding after dropping to 1-3 on the season.  During the post game press conference Cutcliffe stated that this team would now play each game one at a time as if it were a new season.
Considering that Army chewed up 39 plus minutes of the clock, the Duke defense improved on the day alllowing 17 first downs and 333 yards.  Conner Vernon was the stadout stat leader for Duke with 8 catches for 129 yards and 1 touchdown, but it was Renfree's inability to find other recievers which hampered the offenses effort.
Below is Coach Cutcliffes comments via BDN audio.  We'll have more on the game in our Sunday Morning Quarterback edition.
Press play for post game with Cutcliffe -