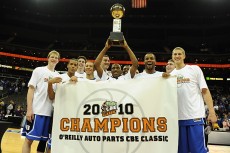 It was billed as a battle between two heavyweights and before tip off there was an NCAA Tournament atmosphere just two days shy of Thanksgiving.  Duke came in with the target on their back and Kansas State thought they had set a trap but these Blue Devils had other ideas and when the dust cleared, it was evident that the nation's top rated team was not over-hyped.
Let's start with Coach K's 800th victory
Kansas City proved a good setting for Coach K's 800th career win in that it is rich in college basketball lore.  A couple of days before Krzyzewski participated in the induction of one of his best players in Christian Laettner and the HOF atmosphere was appropriate in many ways.  Face it, Coach K is a living legend and he now joins the rare few coaches who've been supremely successful in the game per their wins.  The great thing is that Coach is fresher than ever and seems to be enjoying the success with no plans of ending the ride any time soon.  Milestones are nothing new for Krzyzewski for they seem to keep on coming be it at Duke or coaching Team USA.
This is Kyrie Irving
Irving showed flashes of brilliance last evening, something I had seen before while covering him on the AAU circuit.  The young man is a difference maker and he'll drive ACC coaches bonkers as the year goes on.  He shared defensive assignments with his team on Kansas star guard Jacob Pollen who couldn't find any rhythm.  Irving has some jets and he can score in droves but he's accepted a role on this team which is loaded with talent.  In short, you ain't seen nothing yet.
The Blue Devils stole KSU's heart
Duke jumped on Kansas State early and weathered their best shot before demoralizing on of the nations top ranked teams.  The Blue Devils took what looked to be a raucous crowd right out of the game and gave them no opportunity to get their team going by staying ahead double digits throughout most of the game.  You could see the confidence on the faces of the players for Duke, in that they were loose and happy.  Meanwhile, the Wildcat's players looked shell shocked and even when they cut it to 7 points in the second half, they looked frazzled.  The body language of the KSU players spoke volumes.
Mason Plumlee
Plumlee had a nice couple of games and folks are seeing now what I had while covering him in high school.  Plumlee is now the anchor of the Blue Devils front court and his play early in the game set the tone for other teammates to succeed.  And make no mistake, the Wildcats game plan was to keep him off the boards, but they couldn't shut him completely down.
A little bit of leadership
When Duke needed a basket, Nolan Smith was there scoring 17 points and sharing top honors with Irving who had the same output.  Smith was a steadying influence when KSU started any kind of run and his defense was a key factor.
And Mr. Offense became Mr. Defense
When Seth Curry comes off the Duke bench one expects a flurry and that's what fans got last night from the transfer.  The thing is that we are not talking a bunch of threes but his abilities to play passing lanes and pick the ball out of the opponents hands.  Curry had 5 steals and each one of them demoralized the Wildcats who saw the Duke backcourt coming at them in waves.
Mr. offensive efficiency
Talk about a spark off the bench!  Andre Dawkins comes in and hits all of his field goal and free throw attempts and the basket looked like a giant barrel.  Did any of his shots hit rim against KSU?
10-0 run was a knockout punch
Duke used a 10-0 second half run to thwart any hope Kansas State had at a comeback.  The spurt game Duke a 62-47 lead with 12:13 left and they stretched that lead even more before settling on an 82-68 victory.
Kyle Singler
The pre season All American is playing for Duke and not individual accolades to date and that means Duke is even better.  How scary is it knowing he's yet to hit his stride in an effort to get more teammates involved and keep Duke in the win column?  I imagine he'll have a decent game against Oregon on Saturday for his homecoming and word is the his teammates will get some of his mom's home cooking.
We'll have more on the two games in Kansas City coming, so stay tuned to BDN for top notch coverage of all things Duke Basketball.
OFFICIAL GAME NOTES -
Team Notes:
- Duke head coach Mike Krzyzewski  earned his 800th career win while at Duke, becoming the fifth coach in NCAA history to win 800 games at one school. The win was the 873rd overall for Krzyzewski.
- The Blue Devils played in a game featuring two top-five teams for the first time since 2008 when the then second-ranked Blue Devils knocked off No. 3 North Carolina on the road, 89-78. Duke has won the last three matchups between top five teams and are 19-11 all-time under Krzyzewski in such games. The Blue Devils have also now won four straight games against ranked teams.
- Duke claimed the O'Reilly Auto Parts CBE Classic Championship to give them four straight in-season tournament titles. They also won the Maui Invitational (2007), 2K Sports Classic (2008) and NIT Season Tip-Off (2009) in the last three years. They have won 15 straight in-season tournament games.
- Duke freshman Kyrie Irving was named the CBE Classic Tournament MVP after recording 17 points, five rebounds, six assists and two steals in the championship game. The last Duke freshman to receive MVP honors in an in-season tournament was Kyle Singler in the 2007 Maui Invitational. Irving was joined on the all-tournament team by sophomore Mason Plumlee, who had 10 points and five rebounds on Tuesday and 25 points, 12 rebounds and five blocked shots in the semifinal win over Marquette.
- In the month of November, Duke has won 27 consecutive games since a loss to Marquette in the 2006 CBE Classic.
- Dating back to last season, the Blue Devils have now won 15 straight games.
- Duke improved to 5-0 for the fourth straight season and 19th time under Krzyzewski.
- The Blue Devils only trailed for 1:19 total minutes in the game. On the season Duke has only trailed for 2:15 of 200 total minutes. Duke has not trailed by more than two points at any point on the year.
- The Duke guards combined to hold Jacob Pullen, the AP preseason All-America and Big 12 preseason player of the year, to just four points on 1-of-12 shooting, including 1-of-8 from behind the three-point line. Pullen also had just one assist and four turnovers.
- Five Blue Devils scored in double figures, the third this season Duke has had at least five players score 10 points in a game. Entering the contest, six players were averaging over 10 points a game. Duke has had five different players lead the team in scoring in games this season with Irving becoming the fifth against Kansas State.
- For the second straight game, Duke held its opponent to 20 percent or less from three-point range. The Wildcats shot just .176 (3-of-17) from long range in the game, including 0-for-6 in the second half.
- On the other end, the Blue Devils made 6-of-12 (.500) from deep, the second time this year they have shot 50 percent or better from beyond the arc.
- Duke forced 21 turnovers, taking advantage with a 25-18 edge in points off turnovers. It is the third game that the Blue Devils have caused 20 or more turnovers this season. Of those 21 turnovers, 11 came on steals, giving them 10 or more in four of the five games.
Player Notes:
Seth Curry
- Sophomore Seth Curry registered a career-high five steals to more than double his season total of four from the previous four games. The last Duke player with five steals in a game was Jon Scheyer against Virginia last February.
Andre Dawkins
- Sophomore Andre Dawkins was a perfect 4-of-4 from the field, including 3-of-3 from behind the three point line for 11 points. He has reached double figures in scoring in three games this season and in nine career contests.
- Dawkins has made at least three treys three times this year and in seven career games.
Kyrie Irving
- Freshman Kyrie Irving averaged 14.5 points, 4.0 rebounds, 6.0 assists and 1.5 steals per game in the four games of the CBE Classic to earn MVP honors.
- He has now scored in double figures in each of his first five collegiate games, matching a season high with 17 points against Kansas State.
- Irving was a perfect 7-of-7 at the free throw line and is now shooting .913 (21-of-23) from the charity stripe this season.
- He tied for the team lead with five rebounds, which ties his top total this year.
- The freshman guard continued to find his teammates with six assists and now has five or more in four of the five games this season.
- Irving also posted two steals and has two swipes in three contests.
Mason Plumlee
- Sophomore Mason Plumlee recorded his third game this season with 10 or more points.
- Plumlee matched a career high with four made free throws.
- He has a blocked shot in all five games this season, leading the team with 10 blocks.
Kyle Singler
- Senior Kyle Singler drew his team-leading 73rd consecutive start and has now started in 115 of his 116 career games.
- Singler scored in double figures for the 99th time in his career and fourth game this season.
- He was 2-of-2 from the free throw line and is now 13-of-14 (.929) through five games.
Nolan Smith
- Senior Nolan Smith extending his ACC-leading streak of double figure scoring games to 16 with his 17 points. He has scored 10 or more points in 29 of the last 30 games for the Blue Devils.
- Smith pulled down five rebounds to give him three games with five or more. He is averaging 5.0 per game this season after entering the year with a 2.2 career average