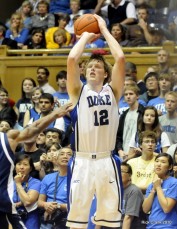 Okay, let's face it, we all knew Duke would beat Colgate, but would they play well with a game against Marquette looming next week?  The answer is yes, for Duke used a stellar second half effort where they went on an early 27-6 run and soundly defeated the Raiders 110-58.  That said, let's take a closer look at the win.
I assist, you assist
Kyrie Irving told me in the locker room that he has a little bit of a competition going with Nolan Smith in that they both want to produce double-doubles every night.  Well, they fell just short for they both had a mere 9 dimes each.   Any time you get that kind of production from your backcourt, you'll dominate any one.
Defense was tough again
Duke came up with 13 steals and created turnover opportunities which helped them to a whopping 40 points to their opponent's 5.  Duke held Colgate to 30.9% shooting from the field.  Krzyzewski has praised his defense early and often thus far, but we'll see how they fare against the likes of Marquette and possibly the 3rd ranked team in the country in Kansas Sate in Kansas City.
Ryan Kelly effective in 16 minutes as was Andre in 18
Kelly got his second start of the season and scored 9 points, a career high at Duke  to go with 5 boards, 2 blocks and 2 steals.  Dawkins?  He threw down a season high 16 points in 18 minutes.  But it was the two players defensive efforts and spacing which stood out in my eyes.
Slow start, strong finish for the brothers Plumlee
Miles started the game in a bit of a funk but he showed strong after the first half to the tune of 9 points, 8 rebounds, a monster block and a couple of steals.  Mason started the game faster and was effective as well with 9 points and 4 boards.  The two brothers play will be vital in Kansas City where they'll face seasoned competition.  Miles 3 steals was his career high.
Seth was looking for the barn but still put up 11 points
You know a kid [Seth Curry] can score when he goes 1-7 from the field including 1-5 from the three point stripe and still scores 11 points.  That's because he got to the line 9 times and dropped 8 of them.  Duke shot 30 of 39 from the free throw stripe for the contest.
Kyle Singler sits ...
... only because Duke dominated.  He sat like the last 14 minutes of the game and scored 18 points and grabbed 9 rebounds, both team highs.  All that in just 22 minutes of play yall!  Kyle made his 71st consecutive start for Duke.
Cameron still great
The students and or Cameron Crazies again earned Krzyzewski's praise and for good reason.  They have been great all year long and again, I have seen 35 years of them in person.  If they keep it up they'll be really hard to beat in the old girl otherwise know as Cameron Indoor Stadium.
In closing
It was a walk in the park but Coach K praised his team for coming out strong in the second half and not looking ahead.  We'll see what Duke is made out of this coming week where you can bet the bench will shorten significantly.  Duke is now 105-2 when they score 100 points or more under Krzyzewski.
And finally, here is Coach Krzyzewski's press conference in it's entirety -
 Just press play -