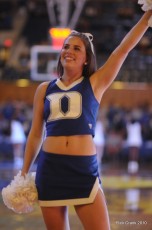 Firstly, I hope all of you are having a safe and happy holiday season!  I hope too, that all of you caught your breath for the basketball season will now get into the meat of the schedule. 
First things first
Before we can discuss the coming ACC season we must first address Wednesday nights game with UNC Greensboro in Greensboro Coliseum.  The game, itself, will be a walk in the park for the nations top rated team.  Coach Krzyzewski will use thes game to help his troops shake off the holiday rust, so expect the Blue Devils to be focused by games end.  Not to be lost or under the radar is the fact that Mike Krzyzewski will be in sole possession of the second most NCAA wins in history at nights end.  It's a heck of an accomplishment for sure, but Krzyzewski has his eyes set on another championship and he knows it will not be easy for this seasons team to meet lofty expectations for they are through the roof.  That said, Coach will once again downplay the history making moment where he officially passes former North Carolina legend Dean Smith.  Tickets are still available and it is a great chance to see Coach K and Team Blue Devil for many fans in the central and western part of the state.  You can be a part of history should you choose to go to the game.
Kyrie Irving
I've chosen to remain positive with concerns to KyrieIrving returning to the court for Duke this season, but in truth nobody seems to know for sure what will happen.  Everybody has an opinion, some justified, some just plain silly.  All I can say is that I hope he comes back but until there is news of a firm plan, it's time to start looking at the Blue Devils without Irving.  About the only fact I can pass on is that Irving and the other Duke players spent Christmas at home with their families and they were to return today.  Irving will likely have another look at his injury any day now and the team tending him will go from there.
Here comes the ACC season
The ACC Basketball season begins in earnest in January where the Blue Devils will face seven conference foes with Alabama-Birmingham and St. John's mixed in.  Duke has two home games to start off the ACC season with Miami and Maryland.  They then travel to Tallahassee to take on Florida State in a game the pundits are already circling as a good possibility of an upset.  They then face Virginia at home before two in state road game affairs with N.C. State and Wake Forest.  Duke will be looking for a bit of revenge against the Pack, but their opponent will be at full strength then.  The Deacons have much better talent than their record indicates, so this could be a trap game.  Heck, it's the ACC, so they could all be trap games.  By the end of January, fans will realize the road will indeed be a tough one and that Duke will continue to take everybody's best shot.
Reality check
Duke fans wouldn't trade places with anyone.  After all, they are undefeated and ranked #1 in the nation and have Coach K at the helm.  Earlier in the season Coach Krzyzewski said this team would have to make their own journey but a lot of fans continued to whisper undefeated as did the media labeling Duke clearly the best.  A look around the college basketball landscape shows that there are a lot of good teams and those teams are capable of beating the Blue Devils on a given night.  In short, anyone thinking this team will go undefeated is fooling themselves.
On the other hand
The Blue Devils will learn a lot about themselves when adversity continues to set in.  They are currently dealing with the fact Kyrie Irving will be out for a bit if not the season.  The players were sent into the break knowing they'd have to elevate their games, so the key thing to watch will be continued development with concerns to chemistry.  In short, Duke is looking for certain players to step up their game and become consistent night in and night out.
Glaxo Smith Kline Invitational
Our members know that the Duke staff has been on the road checking out the nations top prospects while forming their wish list for the future.  In the past the Glaxo Invitational has always been a great event where it is literally filled to capacity.  The event as always, takes place at Raleigh Broughton High School and the action for the men begins on December 28th.  Broughton is the alma mater of former Dukie Shavlik Randolph and the legendary Pistol Pete Maravich.  Originally, Duke had two kids to watch closely.  But one of them, Tyler Adams backed off his commitment and now plans his future with Georgetown University.  Marshall Plumlee remains a future Duke and he will lead Christ School against Brandon, Mississippi and the aforementioned Adams on December 28th at 7:20.  You better get there early to see the two in action and if you cannot make it, BDN will be there to fill you in on the action where we'll eye a couple of other kids as well.