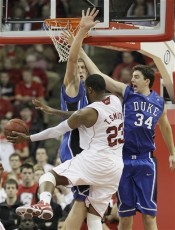 RALEIGH - Last season the N.C. State Wolfpack served up some home cooking by shooting lights out in the RBC Center against the Duke Blue Devils, the eventual national champion.  This year, there was a different result as Coach Mike Krzyzewski played nine players significant minutes and each of them contributed.
Duke ran out to a 42-28 half time advantage and then held off each run the Wolfpack tried to muster as both teams scored 50 points each, thus giving Duke a 92-78 victory.  There are many story lines on the Duke end, but we'll go with the improved play of the bigs as the difference maker.
One can always depend on Nolan Smith and Kyle Singler to play well and tonight was no different.  Smith tossed in a game high 22 points to go with 6 assists which keeps him atop the ACC in that category.  In fact, he leads the league in scoring and assists.  Singler started slow, but was key down the stretch scoring 14 of his 18 points in the second half.
But it was the Duke front court that came to play this evening, be it the brothers Plumlee or Ryan Kelly.  Miles Plumlee, who has sat the bench the last two games, played his best game of the season tallying 11 points and 8 rebounds while his brother Mason scored 7 points to go with his game high 10 rebounds and a whopping 6 blocked shots.
During the post game, Miles Plumlee exclaimed, "I think we have a chance to be one of the best front courts in the nation and tonight we showed that."
Then, there was the play of Ryan Kelly who was a perfect 4 of 4 from the field which translated into 11 points and he too worked the boards hard finishing with 8 rebounds and 2 blocked shots. 
"I just wanted to come home and be aggressive and went out there and tried to make plays for the team and we came out with a win," said Kelly.
The Blue Devils shot 50% from the floor and that helped them to a 17-1 overall record and 4-1 in the ACC.  Duke outscored the Wolfpack in the paint by a 32-30 margin and held a 10 rebound edge when the dust cleared.
"That's the best we rebounded all year.  The Plumlees had 9 rebounds each and Ryan Kelly had 8 and Josh Hairston gave us some positive minutes.  All nine guys contributed in the win," said Mike Krzyzewski who now has 885 career wins.
The Blue Devils will now turn their attention to Wake Forest where they hope to garner another conference road win in a game that tips off 4:00 this coming Saturday.  Tickets are still available for the game.  Game Box Score