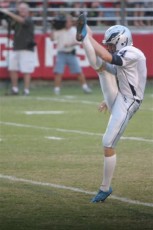 Paul Griggs is a 6'1" 192 pound kicker from Charlotte, North Carolina. After a standout junior campaign in which he helped Charlotte Latin reach the State Championship Game, he received numerous post-season accolades, including NCISAA All-State First Team, CISAA All-Conference Team, and AP All-State ballot for North Carolina. Paul attributes much of his success to his dedicated kicking coach Dan Orner.  On the camp circuit, Paul has impressed coaches and scouts with his place-kicking ability and several top college football programs have showed early interest in the junior. Most recently, he was at Duke for a Junior Day and has several other visits planned for the spring and summer. Highlights from Paul's high school career can be viewed here.
BDN: Can you start off by describing some of your strengths and weaknesses for someone who hasn't had a chance to see you play?
I'm a place-kicker primarily. I kickoff and I also punt. My strengths lie in placekicking and kicking off.
BDN: Can you talk a little about some of the kicking camps you've been invited to and attended?
I've been going to Chris Sailer's National Kicking Event since my freshman year. I went twice my freshman year, once my sophomore year, and I just went again this year, it was about two or three weeks ago. Two weeks before that I went to National Camp Series Supercamp, which was in association with the Army National Combine, just for kickers. I've gone to a couple of Kohl's kicking camps - I went to a regional showcase with them. I've been to multiple college camps. I've been to a bunch of Chris Sailer regional camps in Charlotte and in Georgia.
BDN: What are some of the things you've been working on this offseason and what are your goals for your senior season?
For my senior season, definitely I want to help my team as much as I possibly can get to a state championship and win it this year. We made it to the state championship last year and lost to our rivals [Charlotte] Country Day. It was a pretty devastating loss. It was not good. As far as personal goals for myself, I want to be able to repeat my All-Conference and All-State selections and hopefully I'll have a shot at the Army All-American selection for the East. That would be phenomenal.
BDN: As you're approaching your college decision in general, what are the key factors you're looking for in a school?
Number one I'm looking for a school that's high academically. That's very important to me and my family. And then basically a good football program. People say, "don't chase a coach," but at least for me if I see that the program has had good coaches in the past and the current coach is a good coach and I like their philosophy, that even if that coach decides to leave, I know that the athletic department, barring anything dramatic, would try to seek out a coach with a similar philosophy. But probably the most important thing would be academics.
BDN: You mentioned academics as the most important factor; is there any academic field in particular that you are most interested in, or just overall good academics?
Yeah, that's really why I'm looking for good academics because I have no idea what I want to study. I want to have opportunities in any area that I might choose later on.
BDN: Who are some of the schools that have been in contact with you? Who were some of the first to contact you and who have you been hearing from the most?
Some of the first contacts we got from coaches were at camps I went to in June. Penn State, Harvard, Yale, UNC, Pitt – I didn't talk to the coach at Pitt, but at all the other camps, I had pretty substantial face-to-face time with the special teams coach. Recently, as of September 1st, I've been receiving mail from Duke, Penn State, Purdue, Wisconsin…and I think that's about it.
BDN: What schools have you had a chance to visit recently and which schools do you plan to visit again?
I was just at Duke's Junior Day, it was either last weekend or two weeks ago. That was the second time I've been up there. I went in the fall for one of their games. Obviously all the schools I mentioned that I've been to their camps. And Virginia, I've been to their camp too. Virginia, I've actually been to a few times, not just for their kicking camp, but also my coach, one of his coaching friends has a camp there that's a real instructional camp – it's real intensive and it's been held at Virginia for the past three years. I've also gone up there frequently for other things, my mom being an alumna of that school. I went to soccer camps when I was little there, I went to golf camps when I was little. So that's the one I've been to the most. Duke – I've been up there twice. Harvard, I went up in the fall to a game – I went to the Harvard/Yale game. I plan on going there again in late June. I also plan on going to Yale again, I want to say in April. It's either their Junior Day or their Spring Game. In terms of camps I plan on attending, the list is long and we're trying to shorten it. I don't even know if I could ramble off all the schools.
BDN: Is there anything else you think is important for college football fans to know about you either as a person or as a player?
Tremendous dedication. I feel like I never can just sit back and rest on the achievements that I've done. I just keep pushing myself to get better, to get stronger, to improve my form. I'm never satisfied with past accomplishments. I feel like there's always something more I can do to get better and to help my team more.
BDN: That's certainly a great attitude to have. Thanks a lot, Paul and best of luck to you.
Alright, you too.