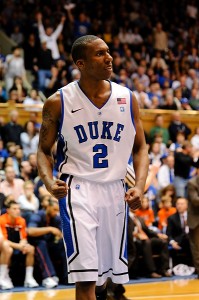 CHARLOTTESVILLE, Va. – Nolan Smith had 22 points, seven rebounds and four assists as No. 5 Duke overcame a sluggish start to beat Virginia 56-41 on Wednesday night.
The Blue Devils (24-2, 11-1) won their fifth straight, despite getting just two points from second-leading scorer Kyle Singler. The senior was in foul trouble for much of the game and didn't score his first bucket until the 16-minute mark of the second half.
Duke held Virginia to 15 second-half points and beat the Cavaliers for the seventh straight time.
Mustapha Farrakhan led Virginia with 11 points.
Virginia (12-13, 3-8), which dropped under .500 for the first time this season, has lost three straight.
The teams combined for seven turnovers before the first television timeout and Virginia took a 12-7 lead on Farrakhan's fast-break layup.
Duke answered with a 15-5 run over the next six minutes.
Just before the half, Smith raced out in transition and converted a layup as he was being fouled by Sammy Zeglinski. While standing over Zeglinski, Smith did a little dance. Duke was in control the rest of the way.
Duke led 34-26 lead at the break and clamped down on the Cavaliers in the second half.