With Duke's prolific passing offense, it's no surprise that the Blue Devils have had success recruiting and developing talented wide receivers in Durham, most notably All-ACC performers Eron Riley, Donovan Varner, and Conner Vernon. The Blue Devils hope to continue that trend in the class of 2012, and have been scouting throughout the country in search of receiving talent, but found one top prospect close to Durham. Tevin Clay is a 6'3" 187 pound receiver from Wilmington, North Carolina. As a junior, Tevin helped Laney High School to the North Carolina state playoffs and a 6-6 overall record. He was named to the 2nd Team All-State offense after hauling in 87 catches for 1,450 yards. Highlights from his junior year can be viewed here.
BDN: Can you start off by describing your strengths for fans who haven't had a chance to see you play?
Well, I'm more of a go up and get it type of guy.  My speed isn't the fastest, but it's fast enough.  I'm working on that now.  I can basically catch any ball that's thrown my way, I'm confident in my hands.  My team is confident in me, I'm a big-time player.  I just love playing football.  My weakness is my speed, I gotta work on my speed a little bit.
BDN: What are your goals for your senior season?
My senior year, do better than I did my junior year.  This year I had 87 catches and 1450 yards, and 14 touchdowns.  I want to do better than I did my junior year, so I'm working hard in the weight room, and working hard all around as a player to get myself better for next season.
BDN: As you approach your college decision, what are the most important things you are looking for in a school?
First of all, academics.  I want to go to a school where I know I can get my work in for academics, going to a school where I can make an impact on the team.  I love playing football, and I want to go to a good football school, coaches, stuff like that.
BDN: Is there a specific academic field you know you want to study?
I want to study sports medicine.
BDN: Who are the schools you have heard from the most so far? Who were the first schools to contact you?
The first one to contact me was ECU, I went to visit there during the football season, and I'm going to South Carolina next weekend for a Junior Day. And I went to Duke and I went to [North] Carolina a couple times, and [NC] State, I talk to them a lot too.
BDN: Have any schools stood out to you at this point in the process?
Nah, none of the schools have really stood out to me other than the schools I told you about.
BDN: Do you have any plans for other visits or camps this spring or summer?
Yeah, I'm gonna go to a lot of one-day camps this summer. I'm going to [NC] State camps, Duke camps, [North] Carolina camps.
BDN: Is there anything else you think is important for college football fans to know about you?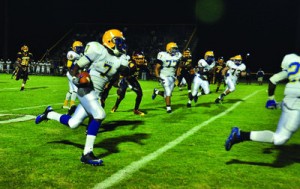 As a person, I'm a mama's boy.  I love my mom, I love my family.  As a player, I'm dedicated to football, but I also play basketball and baseball, we were 4A state champions and right now in basketball we're 16 and 5.
BDN: With your family being important to you, do you think that distance from home will be a factor in your college decision?
My mom wants me to stay in the state, but – yeah, I mean, it all depends on what happens, so I don't know what's gonna happen right now.
BDN: Thanks a lot, Tevin, and best of luck to you.
All right, thanks.