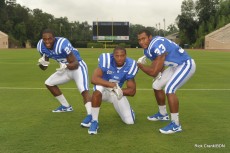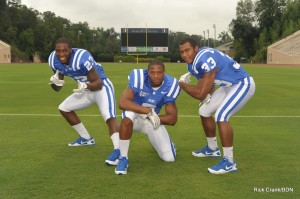 Needless to say, it's an exciting, yet busy time for Duke Athletics with the men's basketball team in China and the football team deep into their pre season practice.  That means it's a busy time for Blue Devil Nation and our hands on coverage as well, but hey, that's us!  We'll lead off this edition of Monday Musings talking about the Duke Football team.  BDN participated in the annual team photo day on Sunday and you'll see those pictures trickle out in the coming days.  There is a good atmosphere surrounding the program, one that features a ton of freshman and sophomore players.  The guys had fun with us yesterday and that has become a tradition of sorts in that we like to on occasion loosen things up.  We'll take in a scrimmage this week, so stay tuned to BDN for unmatched coverage of Coach Cutcliffe and his troops exploits.
The men's basketball team left yesterday morning for China and we urge all to pray for their safe return.  What an opportunity for Krzyzewski to grow his team.  There is no better experience than travel to broaden ones mind and the players will come back older and wiser from their journey.  Back to back games take place this Wednesday and Thursday before they take a break and pick it back up the following Monday and Thursday.  The latter three of these games will be televised by ESPNU and ESPN 3.
BDN had a chance to speak with Duke freshman Alex Murphy before the trip and here is what he had to say -

Our premium section never sleeps and it's a great time to join BDN's extended subscription coverage in that we're running s limited time special.  One year memberships have been chopped 15% and there are discounts on the 1,  3 and 6 month options as well.  Simply go to our join page and you'll find the discounts designed to let you sample our offerings.  You will then have access to our members only message board and all of our outstanding premium offerings which have come in droves the past two months.  This offer is for first time members and will not last long, so act today and come on inside just in time for our latest recruiting updates.
BDN will have some player comments from China in the coming week and we'll stay locked in on football practice.  We are still working on some changes as well and those will surely please the minions.  Lastly, thanks for being a BDN follower as we shut down this abbreviated version of Monday Musings.