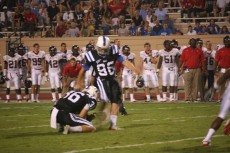 This weeks Monday Musings has morphed into Monday Morning Quarterback.  I promise musings will return with a lot of basketball tidbits next week and further football coverage.
Duke loss to Richmond resonates
If you've been around Duke Football long enough, this past weekends loss to Richmond probably doesn't even make the top ten list of bad losses.  However, it is clear from reading the various experts and fans offerings that this was the worst loss in the David Cutcliffe era.  Looking back on the game, it's hard to fathom that Duke couldn't have found a way to win in a game which seemed like Richmond just wanted to keep it close.  So many opportunities were squandered on Saturday evening, but perhaps none more damaging than to have fans in the stands only for the football team to seem as if they left 30% of their mojo in the locker room while changing into those awful black uniforms.  Seriously, it didn't even look like Duke without that royal blue and white we're accustomed to.  In hindsight, it was a total program breakdown, meaning no one player or coach could be blamed for starting out 0-1 against an FCS team, again!  I said this was a must win all summer long and the reason was that Duke had made improvements off the field but they had to show them on the gridiron.  With most of the offense back, Duke looked like a shadow of itself a season ago and that is disturbing.  Where was the offense we saw against Virginia?  Where was the reckless nature of play we saw in that game?  Is it possible Duke thought they had the game won by putting on all black?  There are enough questions to eat up a 7000 word column.  There are enough answers to fill a 70 word column.
Burning questions
What if Desmond Scott, who led the team in rushing, did not get sidelined?  He was rolling along until injured as was Juwon Thompson who was also sitting at the end of the game.  Duke wanted to run the ball and they did a good job, but was the cost of injuries too steep and will these players miss a week or more?  With Josh Snead already sidelined, a strength has now become a weakness if the injury report is bad.  The next question is can our field goal kickers become consistent again?  How long do you stick with Will Snyderwine if he misses another chip shot for this was a major issue early in his career.  The third question is why didn't Duke stretch the field on offense?  It felt like Duke wanted ball control drives and that's all fine if you score.  If you don't get some long shots here and there, the margin for error on long short pass sustained drives lends itself to more turnovers.
A closer look at the Defense
Kelby Brown, Matt Daniels and Ross Cockrell all showed up on defense and played very well as individuals but there were some team issues on that side of the ball.  Richmond started to read the Duke blitz packages and burned the Blue Devils on big drive saving plays right down the middle of the field to wide open receivers.  A closer look at a major preseason concern, the defensive front, shows that the starters had a combined zero solo tackles.  When Duke did blitz, they got some pressure but never a sack, so that is once again an issue for the team.  If you can't get a sack against Richmond, they are likely to be few and far between this season and that means pressure on the defensive backs.
What is the Duke identity on offense?
We saw some wildcat, three quarterbacks and a bevy of short passes.  Duke also ran the ball, a lot.  From my vantage, there was no identity on the offense.  This caused some serious breakdowns in that they seemed to be trying to do too much at times.  The running quarterbacks worked on the goal line but you cannot help but wonder if they have no confidence in Sean Renfree inside the 15 yard line.  There were very few throws which went to wideouts in the end zone and that meant players would have to make a move to produce a score.
Coach Cutcliffe, his staff and players are not quitters, so they will be back and they will play better football.  To do so, players must play with more of a chip on their shoulder as the team is certainly circling the wagon after a devastating loss.  You can bet that the staff has had little rest with Stanford on the horizon trying to find a way to avoid the blowout to a ridiculously talented and physical team.  There will still be a good crowd for the game with the Cardinal if for no other reason than Andrew Luck is the top NFL prospect at quarterback in all of college football.  BDN is not a part of the knee jerk reaction crowd out there but we are concerned about this past weekends performance.  We'll be there again this Saturday for full game coverage and to bring you more highlights.  If you haven't done so, check out our first attempt at highlights which has a bit more of a mutual fill than we hope to have in the future.  On a side note, Standford is now a 22 point favorite over Duke in this weekends spread - that is awfully close to last seasons Bama game.  All eyes will be on Duke to see if they can ward off a huge defeat.   Let's get out to Wallace Wade and support a very young Duke team that has five total seniors on their depth chart.  Yes, Duke is still very young and we can only hope that they will round the learning curve sooner than later.