It's time for the second edition of my Duke Basketball Notebook which will recap the latest happenings around the program. And as always, we'll sprinkle a bit of inside information in as well to add a little spice.  Okay, we are seeking a new name for our weekly column, so send in your suggestions via one of the social networks.  We feel fans make up the Blue Devil Nation!  Now, on to the tantalizing tidbits -
Rotation revisited
During last week's Monday Musings article I was not clear when I mentioned that  Mason and Miles Plumlee, Ryan Kelly, Seth Curry and Austin Rivers were the Blue Devils five best players.  Instead, my wording made some think I said they would start.  Well, Coach K himself quickly said that this would not happen moments into his post game press conference after the Blue Devils defeated Bellarmine in their exhibition opener.  "I'm not that good of a coach to figure out how to start them all at the same time," said Krzyzewski.  And if you think there was a clear picture established coming  away from the opener with concern to the rotation, think again.  Duke started true freshman Alex Murphy alongside the Plumlee brothers, Curry and Rivers.  But Murphy struggled in the role and would not come off the bench in the second half.  Kryzewski inserted Tyler Thornton into the lineup and the Blue Devils outscored last seasons Division II National champions by a twenty point margin.  Raise your hand if you didn't think Ryan Kelly, named a co captain on this seasons team would start after his play in China?  Well, not to worry for anybody trying to figure out what Krzzyewski will do this season may be fooled.  The bottom line is you will see a bevy of players in the fifth spot this year and it will all depend on the opposition according to the HOF coach.
Seth Curry and talk
After the game I made my way to Seth Curry in the locker room and everybody else followed.  Curry has become the silent leader of this seasons team being named caption just last week.  In the post game conference, Krzzyeswki jokes with the media about getting good answers from Curry, but I told him he was better.  Curry is not a natural talker on the court but in the Duke system this is a must and he's getting better.  One has to think he will be one of two players who have the ball in their hands if the Blue Devils are down a deuce in the close game with a few ticks left.
Austin Rivers and his adjustment to the college game
The other player who will eventually become a go to guy will be the potential laden Austin Rivers.  You heard it here at BDN first folks --- Austin Rivers is the best interview on the team.  Rivers played but 19 minutes and Kryzewski hinted at mixed reviews for his opening game, but rest assured his game is being broken down and rebuilt for the better.  Rivers had the ball in his hands pretty much the whole game in high school and on the AAU circuit and now he is learning to play off ball and it will be an adjustment.  Rivers is the best penetrating guard on the team from my vantage and he will learn to pass off on his drives which will help the bigs finish inside.  Rivers knows he's learning as well and he acknowledged that by showing Blue Devil Nation Video/ his battle scar on the game.  Rivers took  a hard fall and after having his head buried for a few seconds he jumped right back up and moved on.  In the past Rivers may have complained to the refs or showed animation but it is clear that this has been addressed by the staff and he is already a better player from learning that lesson.
Marshall Plumlee and redshirt rules
If you are expecting to see some burn from Duke freshman Marshall Plumlee, think again.  As you know we tweet live from press row in Cameron and several followers wanted to argue that he could play in an exhibition and still red shirt.  Well, they isn't true from what I have gleaned and the only way Duke will waste a year of him coming in deep off the bench will be if there are injuries up front.  Krzyzewski made it clear that the brothers Plumlee, Mason and Miles, Ryan Kelly and Josh Hairston would rotate in the two big spots, leaving three perimeter spots open in the process. And back to BDN tweets for a moment, ESPN Gamecast is now running our take in their roll and we appreciate that.  We're pretty good at what we do and take in all things Duke so if you are not a follower, you should consider it for breaking news and unique coverage.
3 Point Shooting struggles versus Bellarmine
Duke defeated a well coached Bellarmine team by 25 points on the strength of a 49-29 second half.  But the Blue Devils struggled mightily from the three point stripe, going 2 for 14.  Had they hit a few more of those shots, the score gap would have widened earlier.  It was midway through the second half before Tyler Thornton dropped on from the top of the key.  Andre Dawkins who struggled from the field in the Blue-White game had another poor shooting night going 0-3 from the stripe and 1 of 5 overall.  Dawkins is considered the Blue Devils best three point artist.
Blue Devil Nation Facebook Open Group and BDN Photos
Let me plug our Facebook site as well, in that Blue Devil Nation has a open group.  We have just started to grow that end of our coverage and you will find our outstanding photo's there as well.  Join the group and see our Countdown to Craziness galleries as well as fifty great shots from the win over Bellarmine.  Our photographers have features Lance, now touring ESPN Game Day on a weekly basis and currently my friend Rick Crank and they are both really good at what they do.  We've always been big on illustration at BDN and that will continue.  While you are at it, check out our videos on You Tube under Watzone and Blue Devil Nation Video where you will see timely post game interviews and exclusive coverage.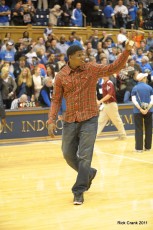 Tony Parker Interview
Well!  I posted a Tony Parker Interview for Blue Devil Nation Premium last evening but accidentally made it available for public access.  Needless to say, many got a chance to read it and there were some very positive vibes.  BDN Premium is our extended subscription service which takes you on the inside of the latest happenings surrounding Duke Athletics and our information is always ahead of the curve.  Hey, it's what we do and we do it well!  If you got a chance to read the article before we carried it back to premium, perhaps you realize how timely our coverage is.  If so, join!  In fact the first ten new members to sign up for a years coverage which is our best rate, will get ten bucks through paypal, making it a steal at $90.00 for the year.
Duke vs Carolina
As we hinted to you last week, there is a Duke vs UNC alumni game in the works and the powers that be are still working on a facilities.  When the details are ironed out, we'll let you know more.   We also broke the information on Clash in Cameron last week where Mitch McGary and Jabari Parker will show off their skills in Durham.  We'll have more on that as well.
As for Monday Musings, well, it will return next week with he usual tidbits.  Up next for Duke hoops is an exhibition game against the Shaw Bears on Wednesday evening and as always, BDN will be front and center to bring you the best coverage we possibly can.