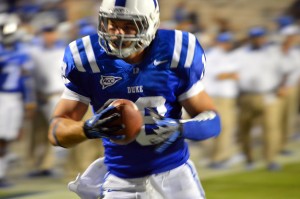 Going into Saturday's road game at Memphis, Duke coaches and fans were interested to see how the Blue Devils would respond to their first adversity of the young season. They had no idea just how much adversity the Blue Devils would face. With a tie score in the 4th quarter and without their starting quarterback, Duke responded definitively. On both sides of the ball, the Blue Devils dominated the final 11 minutes of the game, outscoring Memphis 14-0 to seal the non-conference road victory. Duke moves to 2-0 to start their season for the first time since 1998.
The Duke defense stymied the Tigers and redshirt-freshman QB Paxton Lynch for most of the afternoon, holding them to just 76 total yards in the first half, and just 2 third-down conversions all afternoon. In the 90+ degree Memphis heat, the unit wore down slightly in the second half, but did not break, coming up with needed stops in the 4th quarter, thanks in part to a number of pass break-ups by All-ACC CB Ross Cockrell. Throughout the game, veterans Kenny Anunike and Kelby Brown seemed to be everywhere when the Blue Devils needed them. Brown and David Helton again led the Duke defense with 7 tackles each. DE Dezmond Johnson and CB Garett Patterson each came up with a key second half fumble recovery as well.
Duke starting QB Anthony Boone left the game in the second quarter with an upper body injury and did not return. Brandon Connette filled in admirably, willing the Blue Devils on a crucial 9 play 87 yard scoring drive capped by a 8-yard Juwan Thompson touchdown run early in the 3rd quarter to take a 14-7 lead. After a Tiger touchdown to tie the score, Connette and the Blue Devil offense took over.  Early in the 4th quarter, Connette found Issac Blakeney for a 22-yard TD strike to take the 21-14 lead. Brandon Braxton scampered 12 yards down the sideline on the next Duke series, and the Blue Devils went up 28-14 to put the game away. Connette ended up completing 14 of 21 passes for 198 yards, while adding 31 yards on the ground. Jamison Crowder was again the Blue Devils' biggest playmaker, finishing the afternoon with 11 catches for 140 yards.
Turnovers haunted the Blue Devils all afternoon, as they finished the day with 2 fumbles and one interception. A second quarter Anthony Boone interception led to the Tigers' first points, as Bobby McCain stepped in front of Jamison Crowder for a 75-yard pick-6.
Duke returns home for their ACC opener against Georgia Tech in week 3, and all eyes will be on Boone and the extent of his injury this week. Stay tuned for complete game-week coverage.