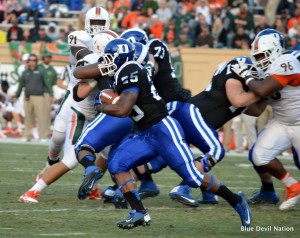 Duke at Wake Forest
12:00 PM ET
Saturday, November 23
BB&T Field
Winston-Salem, NC
TV: ESPN2
Radio: Blue Devil IMG Sports Network
Duke in 2013: 8-2 (Defeated Miami 48-30 last time out)
Wake Forest in 2013: 4-6 (Lost to Florida State 59-3 last time out)
DUKE INJURIES
PROBABLE – Dwayne Norman (S)
OUT – Thomas Sirk (QB), Jonathan Woodruff (DE)
OUT FOR SEASON – Tanner Stone (OT), Jamal Wallace (DT)
WAKE FOREST INJURIES
QUESTIONABLE – Terence Davis (WR), Josh Harris (RB)
OUT – Michael Campanaro (WR)
OUT FOR THE SEASON – Steven Chase (OL), Antonio Ford (OL), Dylan Heartsill (OL)
The Blue Devils ride a 6 game winning streak into Saturday's match-up. Duke had dropped 12 in a row to the Demon Deacons prior to last year's 34-27 win in Winston-Salem. Wins in their final two games are crucial for both teams; the Blue Devils seek an ACC Coastal Division crown, while the Demon Deacons would become bowl eligible with 2 more wins.
HOW DUKE CAN WIN
358 rushing yards - do that again. The Duke offensive line dominated Miami a week ago, and against a physical Wake Forest front 7, the Blue Devils need another strong effort. Containing Nikita Whitlock up front will be key to allowing Duke's stable of running backs time to make plays. After last week's effort, the Blue Devils now rank in the top 5 in the conference in rushing, an impressive feat for a program that had perennially been worst in the ACC. After struggling with interceptions against Virginia Tech and NC State, Boone and Connette played a turnover-free game against the Hurricanes. Duke must value the ball again on Saturday to keep the momentum away from the struggling Demon Deacons. All-ACC WR Jamison Crowder will be the most explosive player on the field in Winston-Salem, and the Blue Devils will have to find ways to put the ball in his hands.
Defensively, the Blue Devils should be hungry for a dominating performance on Saturday. Wake Forest has scored just 3 points in their last 2 games. The Demon Deacons offense has struggled in multiple areas - dropped passes, interceptions, and run blocking. Jim Knowles should have an aggressive gameplan prepared for Saturday, finding ways to dial up pressure on senior Tanner Price, which will open up opportunities for Duke's playmakers in the secondary. Kick coverage will be key to a Blue Devil victory, as poor field position will force the struggling Demon Deacons to sustain long offensive drives.
HOW WAKE FOREST CAN WIN
Coming off a bye week, Jim Grobe will have the Demon Deacons ready to play. His biggest challenge will be to find a way to get seniors Tanner Price and Josh Harris back on track. The Demon Deacons rank last in the ACC in most offensive categories, averaging just 17.8 points per game. Wake Forest's offense especially has struggled since the loss of star WR Michael Campanaro, scoring just 3 points since his injury. The lack of a strong running game has haunted the Demon Deacons all season; they average just 89 rushing yards per game, which has led to an offense that converts just 33% on 3rd down. Coming out of the bye week, Jim Grobe will need a much-improved performance from QB Tanner Price, who has hurt the Blue Devils with both his arm and his legs in the past. He'll need help, though, which means that freshmen WRs like Jonathan Williams, Jared Crump, and Tyree Harris will need to step up.
Even after giving up 59 points to Jameis Winston and the Seminoles, Wake Forest still only allows an average of 23.8 points per game, just slightly behind the Blue Devils. Simply put, the defense will have to be the spark for the Demon Deacons. Another key senior will have to have a big day, as All-ACC NG Nikita Whitlock will likely face double teams all afternoon as he tries to harass Duke's Anthony Boone and Brandon Connette. Against a Duke offense that has struggled with ball security at times this season, a pick-6 or special teams score could be enough to ignite this Wake Forest team to an upset win.
WHY DUKE WILL WIN
The Blue Devils are confident and playing at a high level as they seek an ACC Coastal Division title. They will be able to match the Demon Deacons' physicality and control this game in the trenches. A successful rushing attack will allow the Blue Devils to mount long drives, culminating in more Brandon Connette touchdowns. Look for Duke's young secondary to add to their growing total of interceptions, as Tanner Price and his young receivers again struggle without their star senior. Wake Forest will play an inspired game on senior day, but Duke  will dictate tempo and execute in all 3 phases.
BOTTOM LINE
Since Coach Cutcliffe's arrival in Durham, the Blue Devils and Demon Deacons have played a number of close, hard-fought games. Ball security will be critical in a key rivalry game for both teams. Duke will continue to find its rhythm offensively, while the secondary will come up with a critical turnover or two.
Duke 34, Wake Forest 21