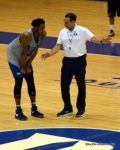 The Duke Blue Devils take on the North Carolina Tar Heels tomorrow evening in Chapel Hill.  Duke Coach Mike Krzyzewski addressed the media today in Cameron Indoor Stadium.  The Duke coach holds a 45-40 edge all time in the rivalry.
The one thing Coach K is emphasizing with his players is to get better.  "We want them to absorb things quicker, but the key is they want to learn and get batter," said Krzyzewski.
The Blue Devils coach said that people think you can just throw a talented group in water and that they will automatically bloom.  But he also stated that young teams always struggle no matter how good they may be.
He mentioned that Marques Bolden was healthy and that the team was as well.  He will now begin the process of mixing Bolden in with Javin DeLaurier, Jack White and Alex O'Connell, (all of whom he mentioned) down the stretch.
Krzyzewski refused to get into comparisons or speak much of the history past the year when Carlos Boozer went down and Reggie Love and Casey Sanders replaced him during a championship season.
There were a lot of questions on "brotherhood," from media types which some of the Duke players have coined themselves of late.  Duke Assistant Coach Jeff Capel came up with the hashtag #brotherhood and it has stuck with recent Duke recruits.  But for many years Duke has had the same thing in a sense with what is called the Duke Family.
Coach Krzyzewski made one point which stood out to me.   All of his former players and assistants helped with the brotherhood label coming about.    He also put forth a neat fact in that all of his former player assistants were team captains and know the Duke way of doing things.
He did have high praise for Roy Williams, Dean Smith and the Carolina program.  He was especially impressed with the way their team has rebounded the ball and finds ways to score this season.  He also had high praise for their players like Joel Berry and Theo Pinson saying they'd played in championship games and that is what makes their team good.
When one writer asked about his defense on Joel Berry that had been pretty good in the past, Krzyzewski would not fall into the trap and said, "maybe we can get Matt Jones back from Reno."
"In the end everybody cares about how we finish.  We have won two national championships since 2010 and that is as good as anybody," said Krzyzewski who is sending out the message that the last game was a bad loss but one game in a season.
As for the last game against St. Johns, Krzyzewski said that he drew up six plays and that the team then went out and did not execute a single thing he had shared.  "It was our worst loss, said the Duke coach who still seems miffed at where his teams attention level was on that day.
Krzyzewski said he knows that the last eight games will come at breakneck speed and move fast.  He is likely preparing his team for short turnarounds while staying fresh which is a difficult thing.
What I picked up today was that his team was looking forward the the challenge and that the experience of a game versus its rival will be valued as the season progresses.
Additional Notes 
Marvin Bagley III still leads the ACC in scoring and rebounding 21.4/11.2. @MB3FIVE He would be the first Duke player in ACC history to lead in both categories if his stats hold up.
Gary Trent Jr. @gtrentjr2 leads the nation in 3 point FG percentage among freshman players. He is 2nd in the ACC in overall 3 point field goal percentage.
Wendell Carter Jr. is on a roll in his last 11 outings. He is averaging 16.5 and 10.5 during that time.
Duke is seeking its 22nd 20 win season against UNC.
Grayson Allen has led Duke is scoring against UNC in 3 games during his Duke career.
Duke and UNC have met while both are nationally ranked in the last 9 games.
The Duke freshman are scoring 85% of the team's total points in the last six games.