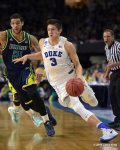 DURHAM, N.C. – Duke senior guard Grayson Allen earned a pair of weekly awards this week as the Citizen Naismith Trophy named him National Player of the Week and the ACC tapped him as Player of the Week.
Allen averaged 22.0 points and 5.0 assists in a pair of key ACC wins last week for the fifth-ranked Blue Devils (22-5, 10-4), who beat Virginia Tech, 74-52, at home and No. 11-Clemson, 66-57, on the road. Duke has won three straight games to move into sole possession of second-place in the ACC standings.
The senior from Jacksonville, Fla., propelled Duke past Virginia Tech with 25 points and six assists. He tied his career-high with seven three-pointers and shot 9-17 (.529) overall. The senior guard added a pair of steals and three rebounds in a team-high 38 minutes.
At Clemson, Allen paced the Blue Devils with 17 first-half points on 4-7 (.571) shooting and 7-7 from the free throw line. Allen played all 40 minutes and finished with a team-high 19 points and four assists to go with four of Duke's 10 steals. He finished 9-9 at the free-throw line and 2-3 from behind the arc.
Allen is second on the Blue Devils this season in scoring (15.1), three-point field goals made (69) and assists (4.6). He leads the team in minutes (34.3) and assist-to-turnover ratio (2.3). He has averaged 16.8 points, 5.5 assists and 39.0 minutes over Duke's last six games. In Wednesday's win over the Hokies, he became the 20th Blue Devil to surpass 1,800 career points.
For Allen, it is his fourth career ACC Player of the Week honor and second this season.
No. 5 Duke returns to action on Wednesday, hosting Louisville at Cameron Indoor Stadium. Tip-off is set for 9 p.m. ET on ESPN.
Duke's 2017-18 ACC Weekly Honors
Marvin Bagley III
co-Player of the Week (11/13)
Rookie of the Week (11/13)
Player of the Week (11/27)
Rookie of the Week (11/27)
Rookie of the Week (12/4)
Rookie of the Week (1/2)
Rookie of the Week (1/15)
co-Rookie of the Week (1/29)
Wendell Carter, Jr.
Rookie of the Week (11/20)
Rookie of the Week (12/26)
Gary Trent, Jr.
co-Player of the Week (1/22)
Rookie of the Week (1/22)
co-Rookie of the Week (2/5)
Grayson Allen
Player of the Week (11/20)
Player of the Week (2/19)