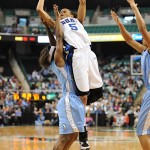 By Mark Watson on March 7, 2011
Photos courtesy of Lance King of Lance Images Click on the first thumbnail to see a slide show with full-size images.
Posted in Duke Women's Basketball | Tagged Blue Devil Nation. Lance king, Coach P, Duke ACC Champs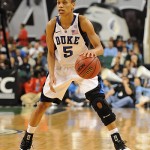 By Admin on March 6, 2011
GREENSBORO – The Duke Women's team defeated arch rival North Carolina today and BDN was on the scene as they had a bit of fun.
Posted in Duke Women's Basketball | Tagged Blue Devil Nation Video, Duke ACC Champions, Duke Women defeat Carolina, Jasmine Thomas. Coach P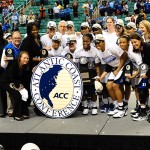 By Mark Watson on March 6, 2011
GREENSBORO – The Duke Blue Devils rolled past North Carolina to win their second consecutive ACC Tournament Championship by a score of 81-66 on Sunday afternoon in Greensboro.  Duke was led by tournament MVP Jasmine Thomas who scored 21 points and she was helped by fellow senior Karima Christmas who had 13 points and 9 […]
Posted in Duke Women's Basketball | Tagged Coach P, Duke wins ACC title, Haley Peters, Jasmine Thomas, Karima Christmas
By Mark Watson on March 5, 2011
GREENSBORO – The Duke Blue Devils are headed to the ACC Tournament Championship game with74-66  a victory over a pesky Georgia Tech team.  The Blue Devils dominated the paint area outscoring the Yellow Jackets by a 28-16 margin in the paint. The Yellow Jackets cut a large Duke lead down to 2 with 7:10 left, […]
Posted in Duke Women's Basketball | Tagged BDN, Coach P, Duke defeats Georgia Tech, Duke heads to ACC Final, Jasmine Thomas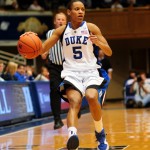 By Mark Watson on February 28, 2011
The Duke Women earned a share of the ACC Regular Season Championship with a 66-58 victory over arch rival North Carolina before a sold out crowd in Cameron Indoor Stadium.  The win pushed the Blue Devils overall record to 26-3 going into this weeks Atlantic Coast Conference Tournament in Greensboro, N.C. While this would not […]
Posted in Duke Women's Basketball | Tagged Coach P, Jasmine Thomas, Karima Christmas, Krystal Thomas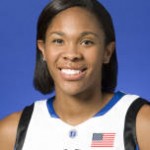 By Mark Watson on February 25, 2011
The Duke Blue Devils will take on the North Carolina Tar Heels in a sold out Cameron Indoor Stadium on Sunday afternoon and that will be the final regular season game for Krystal Thomas.  BDN caught up to senior big this afternoon and chatted with her about the regular season finale. against their arch rival.  In fact, […]
Posted in Duke Women's Basketball | Tagged Blue Devil Nastion Video, Coach P, Duke Women's Basketball, Duyke-UNC Women, Krystal Thomas