Browse:
Home
/
Duke ACC Champions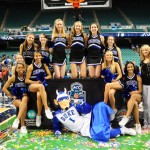 By Mark Watson on March 14, 2011
Duke won its third consecutive ACC Tournament Championship yesterday afternoon, but this one was sweeter than the previous two for they beat their arch rival North Carolina.  BDN takes a look back at the 75-58 win and a look forward to Charlotte this weekend in the return of Monday Musings. Greensboro is the Blue Devils […]
Posted in Duke Basketball | Tagged Duke ACC Champions, Duke Cheerleaders, Duke rips UNC for ACC title, Kyle Singler, Nolan Smith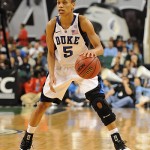 By Admin on March 6, 2011
GREENSBORO – The Duke Women's team defeated arch rival North Carolina today and BDN was on the scene as they had a bit of fun.
Posted in Duke Women's Basketball | Tagged Blue Devil Nation Video, Duke ACC Champions, Duke Women defeat Carolina, Jasmine Thomas. Coach P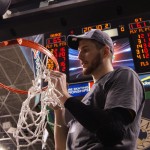 By Mark Watson on March 14, 2010
Greensboro, N.C. – BDN also caught up to Brian Zoubek in the happy Duke locker room.  Big Zoubs grabbed 7 key rebounds in Duke's win over Georgia Tech. Just press play -
Posted in Duke Basketball | Tagged BDN, Brian Zoubek, Duke ACC Champions, Duke NCAA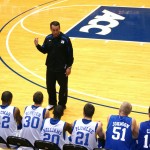 By Mark Watson on March 17, 2009
Nolan Smith sat down with the media today and talked about the upcoming NCAA Tournament – Is that dunk on youtube.com yet? I'm sure it is, everything gets on you tube. How well do you know Kevin Broadus, the coach of Binghamton? I know him very well, he recruited me when he was at Georgetown and he's […]
Posted in Duke Basketball | Tagged Duke - Binghampton, Duke ACC Champions, Duke NCAA Tournament, Nolan Smith Duke Interview
By Mark Watson on March 16, 2009
There was no shortage of happiness as Duke won the ACC Championship yesterday.  An excited Gerald Henderson was pulled aside by a Raycom announcer, but his eyes were on his teammates the whole time. The commentator realized this and told him to go and hang out with his ecstatic teammates who were posing for pictures […]
Posted in Duke Basketball | Tagged Blue Devil Nation, Bob Harris, Coach K, Duke ACC Champions, Duke player quotes, Gerald Henderson, Jon Scheyer, Kyle Singler, Mark Watson Duke, Nolan Smith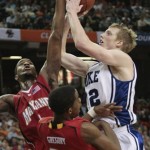 By Mark Watson on March 15, 2009
It wasn't that long ago when people were writing off the Blue Devils after a road loss against Boston College.  There were cries of this team has hit the skids or they are already burned out.  During press conferences, the Duke players get the same questions over and over with concerns to fatigue. Well, the […]
Posted in Duke Basketball | Tagged Blue Devil Nation, C, Duke ACC Champions, Duke NCAA Tournament, Gerald Henderson, Jon Scheyer, Kyle Singler