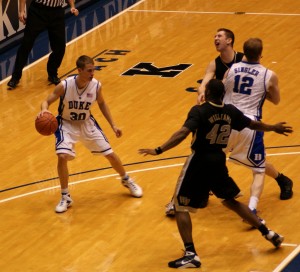 Duke rolls into the Greensboro Coliseum as the ACC Champions to face Binghamton University, a team that is in the NCAA's for the first time.  The Blue Devils are sure to face heckling from what is sure to be a pro UNC crowd and t-shirts which let their neighbors know they won a trophy for winning last weeks tournament are guaranteed  to make the blood boil even more.
Coach Krzyzewski will not allow his team to bathe in past glory and it is clear from hearing the Blue Devil players that they are on a mission to make it down the road in this season's tournament.  So, put aside the venom of the rivalry, for beaming in on the job at hand is the ticket.
Okay, you might say that Binghamton has never been to an NCAA tournament and they shouldn't be all that.  Before you get it in your head that this will be a cakewalk, remember Belmont.  That's why as fans, you must take these games one at a time, just like the team does.
Did you know that Binghamton has the third longest winning steak in the country?  Well, they do.  The Bearcats are riding an 11 game winning streak, partly due to the play of their go-to guy, D.J. Rivera.
Rivera, a controversial transfer, enters the game as the Bearcats top scorer and rebounder.  He is putting up numbers of 20.0 ppg and 6.5 rpg.  The junior has broke pretty much every single game record and was named to the Fox Sports Mid Major All American team.
Before you get too caught up on that mid major tag, you would be wise to realize that the majority of the players who log major minutes are transfers from major college programs.  In fact, the Bearcats had eight newcomers or transfers from other schools coming into the season.
That was a philosophy which second year Coach Kevin Broadus implemented right off the bat.  After a sub .500 year, this year's Bearcats won the American East Conference and sport a 23-8 overall record.  A side not is that the Cats are 2-0 on neutral sites and 9-6 on the road this season.
Broadus, formerly employed by Georgetown, was named Coach of the Year in his conference. Much has been made about his recruiting style, but that has nothing to do with the game at hand, so save it for another day.
Helping Rivera out will be Emauel Mayben, a member of the All America East second team.  Mayben is averaging 11.5 and 4 rpg. 
The middle is manned by Reggie Fuller, the only senior in the lineup.  Fuller is tallying 10.2 ppg and 7.1 rpg and holds the teams single season rebounding record.
The fourth double figure scorer us Malik Allen, a third guard who has numbers of 11.7 ppg and 3.1 rpg.
So, the Bearcats are pretty much a four man show and look for Duke to show them a stingy defense designed to keep their guards from going off.  In fact, I think Duke will play a lot of players in an effort to wear Binghamton down while staying fresh for the next game if all works according to plan.
Look for the Blue Devils to play a lot of perimeter and wings against a team which relies on quickness and ball movement to get their shots.  Duke will likely try to smother Rivera as well, making other players step up to beat them.
Last season, Gerald Henderson put the team on his back to get past Belmont, but the Duke players say they learned from the experience and I think they have.  Look for Singler and Thomas to control the paint and Henderson to pick up where he left off.
It will be interesting to watch and see how Scheyer reacts at the point in the NCAA's as well.  If Duke continues to protect the ball as it has of late, Binghamton could be in for a long night.  The pick here is Duke 81 Binghamton 57
Side Notes -Binghamton has far more students than Duke with 14,368.  They were originally Triple Cities College of Syracuse University in 1946.  Binghamton is 18-0 when leading their opponent with 5 minutes left in the game this season.  They overcame a 25 point deficit to beat Boston earlier this season.  Rivera has scored 20 points or more in 20 games.  In 2001 Binhampon lost to North Carolina 61-60.  They defeated Miami in 2006 by a score of 79-74 at Coral Gables.  Greg Paulus was a teammate of Bearcats guard David Fine while at Christian Brothers.