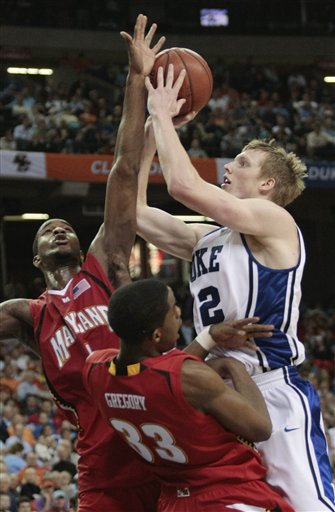 It wasn't that long ago when people were writing off the Blue Devils after a road loss against Boston College.  There were cries of this team has hit the skids or they are already burned out.  During press conferences, the Duke players get the same questions over and over with concerns to fatigue.
Well, the Boston College loss seems long ago now and the 2009 Duke Basketball team closed out the season in style by winning the Atlantic Coast Conference Championship and now look to the NCAA's.  Krzyzewski praised his juniors, stating that they had been through adversity, but a closer look shows a story behind practically every player.   Here are some general thoughts on each player -
Kyle Singler- He has answered more questions concerning his physical being at the end of last season than he has his better moments this year.  Krzyzewski semi jokingly asked the media to ask Singler a question after his stellar opening round game against Boston College.  Make no mistake in that Singlers early play allowed Duke to advance.  You can bet that he will hear another question this week with concerns to his playing every minute of every game of the tournament.   Singler appears poised to make his presence felt, starting with Binghampton on Thursday.  Singler made the All Tournament Team, but was still fifth in the voting which makes me wonder what games were some media members watching?
Dave McClure- The senior has been through enough ups and downs with injuries to where it was good to see how much he contributed as the consummate role player this season.  His defense and hustle will be remembered as much as his shot to beat Clemson at the buzzer.  McClure brought some toughness and senior leadership when the Devils needed it most.  His back to back baskets against Maryland helped thwart comeback attempts.
Greg Paulus- Paulus has played through untimely injuries in the past two seasons.  What does it say about a player who made an All ACC team the season before to accept a role on the bench?  That takes character which is something Paulus has in spades.  Always the competitor, one has the feeling he has a couple of big shots left before he finishes his career.
Brian Zoubek- Like McClure and Paulus, Zoubs has battled injuries galore in his career.  The center grabbed some key boards versus Florida State.  He has been able to come back and contribute after hitting a mid season slump.  At some point and time, Zoubs is likely to get valuable minutes in this years tournament.
Lance Thomas- Thomas finds himself drawing tough defensive assignments.  The minutes he logs should tell you what the coaches think about him.  His hustling play is invaluable.  Thomas is due for a good showing on the offensive end and what better time to do that than the NCAA's?
Elliot Williams - Duke could not have turned their season around if it were not for Elliot Williams play.  Williams has had a tough learning curve as a freshman, but he grabbed key rebounds in the tournament and his skills are something which you cannot teach.  He hit a slight wall of late, but he is still starting and his on ball defense will be crucial for a Devils run.  Williams just needs to keep his head up and continue to let the game come to him while working on his outside shot.
Nolan Smith - Smith played great minutes in the tournament and his play was very important to Duke's championship effort.  Much like Williams, Smith came alive at the right time when production was hard to come by.  It appears that Smith has fully recovered from his injury.
Jon Scheyer- What can be said about Jon Scheyer?  He took over running the point and is playing as good as anybody in the conference.  Scheyer won the tournament MVP for a reason this weekend.  He's showed no signs of becoming stale since Coach K made the change and he will be counted on heavily as Duke goes into the final days of March.
Gerald Henderson- Henderson came alive today and his play put Duke over the hump.  When Gerald goes, Duke goes, so it's important for him to be consistent.  Henderson seems to be on a mission and he has blossomed into a leader.  The future is bright for Gerald and I implore you to worry about the here and now and not look ahead to anything other than this seasons games.  If you look ahead in worry and not live in the moment, then you will miss out on a lot.
Olek Czyz, Marty Pocius and Mile Plumlee- When Nolan Smith drove down the throat of the Seminole defense for a dunk, Czyz and Plumlee jumped off the bench with authentic glee.  Sure, these kids want some burn, but they are part of something special, a championship.  Don't think they will not contribute in the NCAA's for I have seen some strange things happen with rotations.  Still, they are a big help everyday in pushing their teammates in practice and supporting them.  How comforting is it to know that Duke can go deep to players like Marty Pocius if needed?
Duke will now have to put the hard earned championship behind them and focus on the game Thursday evening.  I would imagine they will be allowed to enjoy being ACC Champions through Monday, but then it will be back to business.  In order for Duke's season to continue, each of the aforementioned players will have to find new ways to contribute, show up and make stops or a big shot when they have to.
Winning the ACC title is a wonderful achievement, but these guys can still make some more memories.  No matter what happens, this team came together when they had to and now own a trophy and a banner.  My guess, is that they are still hungry, but only time will tell if they advance further into March than recent years.