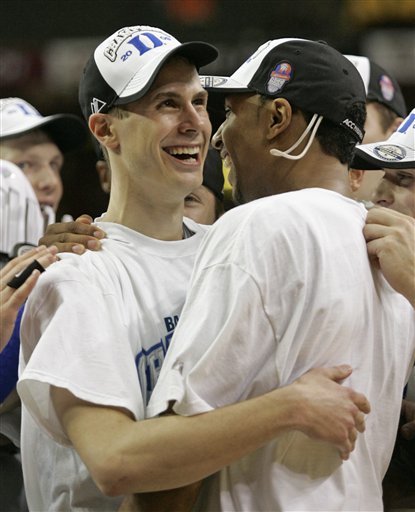 There was no shortage of happiness as Duke won the ACC Championship yesterday.  An excited Gerald Henderson was pulled aside by a Raycom announcer, but his eyes were on his teammates the whole time.
The commentator realized this and told him to go and hang out with his ecstatic teammates who were posing for pictures with the trophy held high nearby.  As Duke fans gathered near court side to watch the team, some of the Blue Devils commented on the victory, including coaches.
"There's nothing like it.  You play to win championships and I am just so proud of them.  These guys have grown up together and it's just a great feeling to win," said Chris Collins to Duke play ny play man Bob Harris when asked of his feeling of winning Duke's 9th ACC Tournament Championship in the last 12 years.
Withthe Duke band blaring in the background and flashes from cameras all around, Nolan Smith said, "It was terrific!  We played our hearts out!  We've been working hard all season long and we deserve it. I'm so proud ... I'm speeclhess right now.  Now I get my hat and my (championship) shirt.  Hanging a banner up there in Cameron means everything to me."
Krzyzewski made sure that his grandsons and family shared in the moment, motioning them down to the court as he smiled and enjoyed the moment.  After all, Krzyzewski has encouraged the fans to live in the moment all season, and today, Duke fans all over the nation shared a smile with the living legend.
Lance Thomas said, "It (the ACC Championship) means the world to me.  It feels good to actually accomplish something big like this.  It's only motivation to want more.  We needed everybody to contribute and this is something we are all going to share the rest of our lives."
In the background, the nets began to come down as the Blue Devils in customary fashion took turns cutting pieces of the net.  Elliot Williams handed the scissors off to Gerald Henderson and a loud roar came from the Duke faithful.
Jon Scheyer then turned to Raycom and was asked if the team was playing it's best.  "It's playing really well," said Scheyer who then continued, "I don't want us to get ahead of ourselves right now, but this championship is a good stepping stone going into the NCAA Tournament.
Before Scheyer could turn around, the voice of the Blue Devils was there for more comments.   "It was a great day and it feels really good to get this win.  We're not going to be satisfied and hopefully we can use it as a stepping stone going into the NCAA Tournament. "  Sounds familiar, huh?
"It feels great.  It was very important for us to get off to a good start in the first half.  We shot the ball very well.  We think we're playing our best basketball and winning this will give us great momentum going into the NCAA Tournament.  We've just got to keep this thing going," said Duke standout Kyle Singler.
Singlers play earned him All Tournament team honors with teammates Jon Scheyer and Gerald Henderson.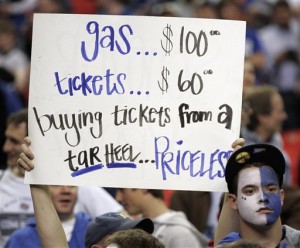 "It's always good to be a champion and to be a part of this team now as a coach and have these guys go out there and play hard to get this championship means a lot to me just to be here and see them get it done," said Duke's newest assistant coach Nate James.
"We have such a good group of guys and they work so hard and they deserve this.  It feels good to win in Atlanta," said the man known by some as Nate Dogg.
In the backdrop, Jon Scheyer who has just been named the tournaments most valuable player, stepped off the ladder after getting his cuts.  Scheyer naturally was the recipient of rousing applause.
Coach K then said, "It means a lot (ACC Champions).  I've been a part of some championships and a Duke player ... it's not a birthright that you get a championship.  If you don't get one you will feel left out from the other guys and this group winning their first championship is huge.  Especially, to win three tough games like they did."
Krzyzewksi then commented about the late season changes which proved successful.  "This is a new team.  We played about nine games with this lineup together.  To have these three games with their pressure is like going through a month and a half of the season.  So, it was really good.  I don't think we'll be tired, but we will be a little more hardened."
Duke President Richard Brodhead chime in with the Duke Radio show as well, stating, "Today I was confident from beginning to end.  It was still a struggle, but we had a great effort out there.  There is a lot of basketball to be played and we're all 0-0 at this point going into the next phase.  And you know what?  Duke is going to be right in the middle of this thing.  We have a great coach and a great staff and a tremendous group of young men."
The team then made their way to the Duke locker room to be among themselves.  After spending some time there, it was off to the media room where the process of questions started again.
On a day where Duke made history and memories, the grind that is thrust upon student athletes probably didn't seem so bad.  But in the back of their minds, they knew that the moment they were living in would have to be put on the back burner in the near future.
"Our kids played really hard for three days," said Krzyzewski as the session began.  Indeed they did, Coach.  But give yourself a little credit too.  On a day when you became the sole owner of the fourth most wins in college basketball history it was clear for all that you and your staff coached hard for three days as well.
The combination of effort from the players and staff gave Duke fans a day in heaven and added to their long list of fond memories.  The bottom line is that the Duke Blue Devils are the 2009 Atlantic Coast Conference Champions.
A special thanks to Moore Productions for some of these quotes.