[private]The Duke offensive line played very well in the opening day win over James Madison last Saturday. They will test themselves against the Northwestern defense this weekend in a battle of two 1-0 teams. Rob Schirmann is an offensive guard and leader who is part of a senior core for Duke. Schirmann's 25 career starts is tops among the interior lineman.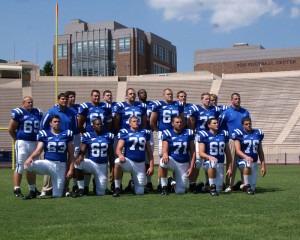 It took Duke its first four games last season to gain as many yards on the ground as you all did this past Saturday. What do you attribute the improvement to?
We've been working pretty hard on our run game. We've been working on all of our skills. We've practicing pad level, our steps and all the fundamentals. We've just been working hard on that and you can see it in a game.
Are you part of the Cutcliffe weight loss plan? What did you weigh last year?
I was about 285 and I'm about 275 now. I lost more in the off season, but tried to gain a little bit more. It's increased my strength and I've lost a couple of percentages of body fat and I've gotten a little quicker in the off season. It's all been very positive.
It's been awhile since you've won a game, how do you think you will react to that this week?
We will not focus on that this week. There's no big heads around here and there's no big ego's. Nothing from last week will effect how we focus and prepare this week, how we go into this game. We're strictly focused on Northwestern.
What is your reaction on the crowd this past Saturday and the Blue Devil Walk?
Personally, I thought that was great. And the Blue Devil Walk pretty much amazed me. I was extremely excited and pumped up to see all the students out there on that and in the stadium, seeing them all out there through the rain delay … I'm real happy we had that kind of support.
What did you do after the victory?
The first thing I did was smile. Then I looked over at the student section and not a single person had left. It was unlike anything I had seen in the past during the four years I had been here. It was a good feeling and was pretty exciting.[/private]