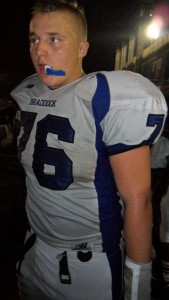 The Duke Football class of 2012 is up to 14 verbal commitments now, and with only a handful of scholarships remaining, the Blue Devils' coaching staff is looking to add a few impact players. One such prospect is a highly-coveted offensive lineman from the talent-rich state of Florida. Duke recently hosted 6'5" 275 pound junior Robert Conyers on an unofficial visit in Durham. Conyers is one of the top remaining uncommitted offensive linemen in the class of 2012, with 20 scholarship offers from programs throughout the ACC, Big East, Big Ten, and SEC. As a junior, Conyers helped lead Braddock HS to an 8-2 overall record and the state playoffs. His performance earned 1st Team All-County and 2nd Team All-State honors. Duke Offensive Line Coach Matt Luke is developing a talented group of linemen in Durham, and a potential star like Conyers would be a great late addition to Duke's class of 2012. [private]
BDN: Can you tell us a little bit about your high school career and your strengths on the field?
Well, I only started playing offensive line at the end of my sophomore year. I went to a bunch of camps, and this past year I made the All-County Team and the 2nd Team All-State. Some of my strengths are just my footwork and my aggression.
BDN: You mentioned that you've been able to attend a few camps this year; what are some of the things you're working on as you head into your senior season?
Just my strength and my pad level.
BDN: I know you have a pretty long offer list, so I won't ask you to name all of the schools that are interested in you, but where do you currently stand with scholarship offers?
I have about 20 scholarship offers right now. And some of the bigger ones are Michigan State, Duke, USF, Wake Forest, Illinois, Kentucky, Vanderbilt, UCF, and a couple other ones.
BDN: That's an impressive total. Where would you say you are in your recruiting process right now?
Right now I'm looking to narrow it down. I'm going to visit Michigan State and Illinois and then I'll have like a top 5 probably after I make that trip.
BDN: Obviously, it will be tough to narrow things down to five schools, but what are the most important things that you are looking for as you evaluate a program?
Just the school's atmosphere, the coaching staff, and the way I feel when I'm around them and around the other players that are playing there currently.
BDN: Which schools have you had a chance to visit so far and have any stood out to you?
I've visited Wake Forest, Duke, Vanderbilt, Georgia, LSU, Florida, Miami…I visited UCF, USF, and some of the schools that are standing out to me are USF, Wake Forest, Duke, just because of their coaching staffs and the total package of the school.
BDN: You mentioned that you'd like to have a top 5 after these next couple of visits. What are your plans for narrowing things down and making a decision from there?
Probably going to take like 2 or 3 official visits, but most likely the middle of my season is when I'm going to make my decision.
BDN: Are there any schools that you think you definitely want to take an official visit to at this point?
I'm still kind of narrowing all that down.
BDN: Is there anything else you want college football fans to know about you?
That I'm only 16.
BDN: Thanks a lot, Robert, and best of luck to you.
Alright, thanks.
[/private]