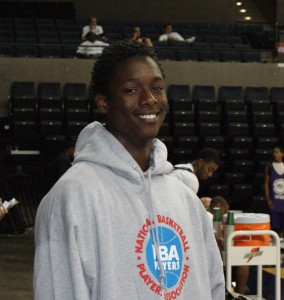 Well, everything is a little quiet at the moment save the deluge of rain in the Triangle area.  Let's talk a bit about the hot topics which will break the silence any day now -
Harrison Barnes had a nice tournament during this past weekend's Jayhawk Classic, where he led his team to the title.  [private] One must keep in mind that this was a watered down event with concern to normal AAU talent.  Still, Barnes once again put his All Iowa Attack team on his back.  Not surprisingly, reports are mentioning how hard Barnes played, which I told you here after the Boo Williams Invitational.  Barnes leaves it all on the court, giving 100% effort at all times, and that is a testament to his hard work.  Being in Kansas country is nothing to be alarmed about, but it would be a huge mistake to count them out.  I have said for some time now that Duke and Kansas are the big players, both schools getting in early.  Keep in mind that Barnes will have taken his third visit to Durham before the end of summer, the last visit being a surprise for Duke Coach Mike Krzyzewski's birthday.  A lot of people want to think Barnes has given a silent verbal, but that is not true.  While he likes Duke and has a great relationship with Coach K, this one will go on for a bit.  Like many, I am hoping for a Kyle Singler-like situation.  Singler was always considered a Duke lean, but he waited quite a while for his commitment.  Provided Barnes does come to Duke, waiting it out will be a good thing in that the media attention will be at fever pitch.  Look for other schools to try and become involved, but they'll have some ground to make up.  One of those schools is, of course, North Carolina, who will get a visit in June but, as I have said before, don't be surprised if he takes in Duke that same weekend.  Could the third time be the charm?  We'll all have to wait and see.
Kyrie Irving's recruitment is taking off and every school in the country is trying to get in.  I wouldn't be surprised to see Irving's list of ten change as time goes on.  Kentucky is making a hard push and they have the Rod Strickland connection going for them, but Duke is still making Irving a priority recruit and Coach K will see him by July.  Of course, K has to see a kid in person to offer a scholarship, but Irving knows one is there for him and has had  good things to say about the Blue Devils.  I will defer to Andrew for his thoughts on this one over on the message board.   As strange as it may sound, I have yet to see Irving play in person, but that should be a thing of the past as summer moves in.  Every now and then a player comes along who plays for an AAU team you just don't come across unless you live in the New Jersey-New York area.
Brandon Knight is playing it close to the vest, but he will get questioned until he decides to get serious about his recruitment.  Knight is a really smart kid who values education, yet his future is in the NBA.  Duke is still very much recruiting Knight and you cannot believe all of what you hear on the world wide web.  In fact, take it from me and never read too much into any kid's comments.
Ray McCallum is another player the Duke staff covets, but I need to talk with Ray to get a good feel for where he is in the recruiting process.  McCallum has a lot of suitors and he is moving up in the rankings by the day.  Either Andrew of myself are sure to run up on him at an event soon.
Duke is still open to finding a bruising rebounding type kid in the class of 2010, but no legitimate names have turned up as of yet.  At this time, the staff is going on what they hear of a lot of kids.  It will be July before they can head to events and you can bet they will be out in force.  At that time, names should start to emerge.  As for the class of 2011, names are being taken, but it will be later this summer before serious ones emerge.  In short, Duke is concentrating on finishing out the Wall recruitment and finishing up 2010.
Look for the recent John Wall situation to come to light by week's end.  Wall didn't do anything that bad and it will be taken care of.   Duke, like all others involved, are taking a wait and see approach.  As for the recently announced date of May 20th for a decision date - don't hold your breath, for I haven't confirmed that as of yet.  I told you that the trip to NCCU wouldn't happen when everyone else was saying it would.  It then came to light in Adam Zangoria's blog that the visit didn't happen.  As for Wall knowing where he is going, well, think again on that one too, for this one has a lot of dominoes which have to fall before there is a clear picture.  I also told you that he may likely not trim his list, but I learned today that he actually could make a list shortly.  This information was not from Wall but someone close to him.  I can also tell you that his decision will be on a national network, likely ESPNU.  One would have to cut the list to fit the hats in front, right?
With concerns to Eric Bledsoe, Duke couldn't touch him due to his grades.  He will of course announce tomorrow between Kentucky and Memphis and anyone who tells you he is a lock one way or the other, is lying.  Kentucky was the prohibitive favorite, but Memphis made quite an impression and Bledsoe was very comfortable on that visit.  The Wildcats are going after every guard you can name these days and that may just scare Bledsoe  off.  However, the consensus says Kentucky, but I say, let's wait and see.
I would love to see Gerald Henderson return, but the reason he has not signed an agent is not what it might seem to some.  I fully expect him to go to the league, but I will happily eat crow on this one.
I will be attending one of two AAU events this weekend, so you can look forward to coverage. [/private]