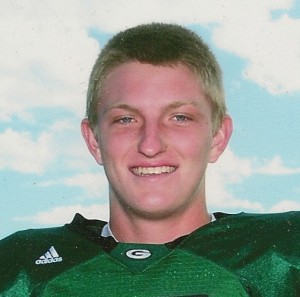 Duke Head Coach David Cutcliffe is known for his ability to develop quarterbacks, thanks to his work with Thad Lewis and Sean Renfree at Duke, and Peyton and Eli Manning at Tennessee and Ole Miss. In the class of 2012, Duke has already been in contact with many of the top quarterbacks around the country, including Brendan Keeney, a 6'3" 215 pound prospect from Granite Bay, California. As a junior, Brendan led Granite Bay to a league title and a 9-4 overall record, finishing the year throwing for over 2,500 yards and 33 touchdowns. Highlights from his junior year can be viewed here.
BDN: Can you start off by describing your strengths as a quarterback for fans who haven't had a chance to see you play?
We run a "fly" offense at Granite Bay, where I am usually under center and play action on most of our pass plays. I roll out on most of our pass plays away from the run fake. So my strength is being able to throw on the run or I can also step up in the pocket. When we snap the ball, I usually have a good plan of what we're gonna do and where I'm gonna go. So my mental game, I'm still working on of course, but that's one of my strengths, as well as the physical tools that I was blessed with. My height and strength help a lot.
BDN: Is there a quarterback in college or the NFL that you have studied or modeled your game after?
Well, everyone wishes they had Tim Tebow's work ethic, but from a technique standpoint, I worked with Tom Brady's coach at a camp in the Bay Area, so he taught me a lot of what Tom Brady does to mentally prepare for the game. And of course Peyton Manning, what he does before the game. I just admire a lot of quarterbacks that put in hard work and don't just take for granted what they're given.
BDN: What are some of your goals for your senior year?
We've been to the playoffs twice, my sophomore year and junior year, but we have always come up a little short. So this year of course, I'm looking at the big picture, hopefully maybe win a section title, and just win more games.  I know everyone wants to win, but I just like competing at a high level, and I want to be known as a winner.
BDN: What are the most important factors you're looking for in a college?
A strong, stable program. Good academics of course, great school environment, and how many quarterbacks are already ahead of me.
BDN: What are some of the goals you hope to accomplish in college?
First of all, I want to make it to the right school - the school that is the best fit - a win-win both academically and athletically.  Second, I want to play football, and when I get the chance to play, I want people to remember the team, not only as a good team, but a memorable team.
BDN: Who are the schools that you have heard the most from and which schools were the first to contact you?
Well, the first day that we could get email, Duke emailed me and let me know that they were interested, and I already talked to the coach recruiting me a little bit. I tried to get a hold of Coach Roper, but never did, since we had a pretty short period of time for juniors to talk to the coaches.  Duke started out early but some colleges are coming to the high school now, and have began checking in on me and a lineman on our team, but I would say Duke, Oregon, Oregon State, Washington State, and Notre Dame, have shown me the most interest.
BDN: Have you had a chance to visit any schools?
I've been to Stanford unofficially, but I don't know what's going on anymore now that [Head Coach Jim] Harbaugh left. So I've only been to Stanford.
BDN: Do you have any plans for additional visits this spring or summer?
Yes, more unofficial visits to some Pac 10 school and some east coast schools. I'm invited to the Elite 11 at UC Berkeley and the Nike camp at Stanford. Most coaches want me to throw for them in person so I am planning some trips to those schools.
BDN: Have any schools stood out to you at this point in the process?
A Washington State area recruiter has come by three times, and he finally brought the head coach to our school, so I got to meet him too. They've tried to build a relationship, and we have, and I just talked to Oregon coaches, so hopefully that grows.  I've known the Oregon State coach since my sophomore year and he's come by to see me.  So I'm still early in the process but those are the places I have built relationships with so far and stand out at this point, however there are many schools that impressive.