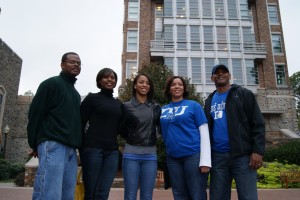 Well, it never fails folks!  I attempt to take 48 hours away from the wired world and all heck breaks loose.  Okay, okay, not that much but enough starting with the answer to the question about Carrick Felix.  Yes, it is true in that he will not enroll at Duke.  The word is admissions were the hold up but the fact is nothing official is out there yet and he has opened up his recruitment.  The BDN wishes Felix the best in all of his future endeavors but fortunately Duke is really deep this coming season.  Felix was viewed as an athletic wing with good defensive capabilities to go with his explosiveness.  The Duke staff was looking forward to working with him before the latest happenings.
The Duke Football staff has been on the recruiting trail and they are working it hard.  Duke offered Colorado quarterback Brock Berglund which you can read about in our football section.  We'll have more on this and another offer coming shortly.
More props to Doug Collins who will be officially named the coach of the Philadelphia Sixers today.  Doug of course is the father of Duke Assistant Coach Chris Collins and played his most memorable moments in Philly as a player.  While Chris will be returning to Duke this season one has to wonder if this will open some doors down the road.  Collins [Chris] is a basketball fanatic who misses only the occasional bounce of the ball if a game is on television.  BDN wishes Doug the very best in his new job.
You may have seen a few folks saying Jon Scheyer could play basketball in Israel.  It's not far fetched.  BDN will follow the situation.
This weekend will likely be an end to one of the AAU's best tournaments, the Tournament of Champions where the games are played on the campuses of Duke, North Carolina and North Carolina State.  BDN Premium members will get all the skinny and this may be your last chance to catch this tournament in that the NCAA will soon not allow these events to be played on major college campuses.  A lot of other changes are in the works and as summer rolls in we'll discuss the future of off season hoops.