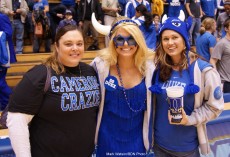 The Duke Men's Basketball team pushed their record to 9-1 this past week with a wins over Colorado State and Washington while the football coaches secured three verbal commitments on the recruiting trail.  That's a pretty solid week and thus we begin this weeks Monday Musing's.
The win over Washington
I personally thought it was a good win and a learning experience for a young team but many found fault in the win.  Of course, we are talking message boards here and everybody, no matter who you are has an occasional melt down.  Yes, the Huskies staged a comeback late in the game but Duke built a sizable lead which didn't allow the comeback to take hold,  I mean come on critics, a three pointer at the buzzer cut it to six for the Huskies and who actually thought in reality that Duke was going to lose that lead?  Now granted, the comeback is a lesson to a young team on how to close a game but I just find no major negatives in this win.  In fact, with Austin Rivers and Seth Curry on the bench it forced young players into action on the big stage of Madison Square Garden and that to me is a positive learning experience.  So, I don't get the criticism unless you want to win by 20 every time out.  And no knock on my man Mason Plumlee, who struggled at the free throw stripe, but had he hit half of those the lead would have been much larger and that is a single intangible.
A work in progress
What fans need to remember is that this Duke team is a work in progress and is 9-1 against the toughest early schedule in the nation!  Coach Krzyzewski is bringing this team along just as he has others and to succeed in March it takes both improvement and luck.  The Blue Devils seem to be just below a tier of four or five teams, but there is not one of those teams that Duke could not beat on a given night, so that is something to hang your hat on.  The Blue Devils lost Nolan Smith and Kyle Singler and to some extent Kyrie Irving, so this team is developing it's leaders and Coach has said from day one, different players will step up.  You know, I use to make fun of the UNC fan base at times for complaining when Dean Smith was there, but the Blue Devil fan base is right there now, demanding perfection when they've only come to expect it from mad success.  So, sit back and enjoy this years team develop and for the record they've pretty darn good.
Austin Rivers named rookie of the week
Austin Rivers averaged a team-high 17.5 points per game in leading seventh-ranked Duke to wins over Colorado State and Washington. The Winter Park, Fla., freshman guard was 11-of-22 from the field, including 5-of-10 from three-point range, and 8-of-10 from the foul line for the week, while also adding 3.0 rebounds and 2.5 assists per game. He scored a team-high 17 points in Duke's 87-64 win over Colorado State Wednesday. In Saturday's 86-80 victory over Washington, Rivers tallied a team-high 18 points to go along with four rebounds and three assists in 25 minutes of action.
So, you think December will  be slow with just two games, huh?
Duke does not play again until  a week from today against UNC-Greensboro at home and then Western Michigan on the day before new years eve.  Yep just two games, but it is December and that means high school basketball tournaments fro Raleigh to Myrtle Beach and we'll certainly bring you some coverage.  We'll discuss this further shortly, but you can bet you will hear from the likes of Rasheed Sulaimon and other targets.
Football Recruiting has a big day
Coach Cutcliffe hit the road the day after the loss to UNC as did his whole staff.  And that's not just speak on our part, they are beating the road hard trying to improve the talent base.  As BDN's football guru reported yesterday, the Blue Devils have three new verbals and one in particularly excites me.  Check out this link - Football gains three verbals