After a brief hiatus Monday Musings is back and we have plenty of stuff to talk about.  The reason the article went MIA was due to an overload of Blue Devil Nation Premium articles which simply dominated the site last week.  One thing BDN followers can depend on is the flat out best recruiting circuit coverage available. 
The NBA Draft is still fresh in many fans minds and the Blue Devils added three more players to the league.  Kyrie Irving became the second Blue Devil to be the first overall pick, joining Elton Brand as the two Blue Devils holding that honor.  Irving looked rather suave as he hit the podium fulfilling his dream.  While some Duke fans feel a void in that they saw him play just eleven games in the royal blue, there are benefits to his quick departure.  Irving will represent Duke well and he's already had good things to say about Coach K and the program.  Having an alum in the spotlight will only bring more talk of the program and rising prospects really like seeing the hot rookies which stay fresh in their minds.  Duke adds Austin Rivers this year and trend is developing of great guards coming through Durham on a yearly basis.  Here is Irving and Tristan Thompson being introduced to Cleveland Cavalier fans.
How cool was it to hear, "And with the 21st overall pick in the NBA Draft, the Portland Trail Blazers select Nolan Smith of Duke?"  Maybe Kyle can give Nolan some tips as he rolls to home state to Oregon with a guaranteed contract in tow.  Smith worked hard at Duke and had both up's and downs but he stuck it out and he is now in the NBA.  FWIW, I jumped out of my chair and cheered as if it were a Duke buzzer beater when his name was called.  Here is the latest article on NDotSmitty.
Then there was Kyle Singler chosen #33 by the Detroit Pistons.  Singler barely missed the first round but he fell into a good situation with the Pistons in that he was still their first selection and he will get a sure contract.  The Detroit brass pointed to his leadership, work ethic and skills when they spoke of their prized rookie.  I will sure miss all three of these guys but the memories from each have been great, especially Nolan and Kyle who brought a National Championship to Durham.  Here is a link on the Pistons desire for character and that led them to draft KSing. 
It seems like a few months ago when I was covering Duke players at the N.C. Pro Am at North Carolina Central University.  Maybe it's the fact I am getting older or it could just be that coverage never ends at BDN.  Regardless, BDN will be front and center with coverage for the event which starts this week.  BDN was the first site to cover this event and therefore we've developed good relationships with those involved.  It's a first rate event worth your summer time and a friendly atmosphere awaits.  Stop by and say hello for I will once again be in the end zone with my own private desk;)  A key change to note -- no high school players are allowed to participate per NCAA rules this season.  That means no Pinson, Purvis and such.  One other tidbit is that Duke players rarely show the first session, so look for them next week.  And yes, Duke will have players participate but their time will be cut short due to the China-Dubai trip which happens in August.  As we've said before, Duke is allotted ten full practices before the journey.
USA!  A few key Duke Basketball recruiting prospects  were missing during last weeks NBA Top 100 Camp and for good reason.  Targets Jabari Parker and Theo Pinson were in the red, white and blue leading Team USA to Gold.  Parker averaged 15.4 ppg and  grabbed 6.4 rebounds a contest.  Pinson was the fourth   scorer at 11.5 ppg and added an amazing 6.2 rebounds from the wing.  Team USA finished 5-0 defeating Argentina 104-64.  Here are the TEAM USA U16 Stats.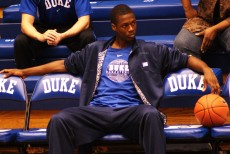 Stash this in the remember where you heard it department.  Harrison Barnes will be the ACC Pre season POY and maybe even the national one as well.  A look at returning scorers in the conference shows that he is the top returning one in the league.  And look for the Blue Devils Seth Curry to make first team while Mason Plumlee will be on the second team.  UNC and Duke will be picked one, two in the league.  Yes, Duke fans, Barnes pictured left would have been in the top 8 picks had he gone pro, so his return guarantees that he will be one of the most hated Heels ever.
Measurements are coming in from the Nike Skills Academies and we found out that the measurements for the brothers Plumlee. Mason Plumlee measured 6'10," 234 with  6'11" wingspan, while Miles Plumlee measured 6'11.5," 247 with a 7' wingspan.  For full prospect measurements, check out the BDN Premium Message Board.
Recruiting information has been red hot of late and BDN has an incredible amount of material for you to catch up on by becoming a member.  We'll be heading to the Peach Jam in July but there is much more before then.  We'll keep you in a bit of suspense on that.  Look for a lengthy interview with Tony Parker today, so get off the fence and join the most dedicated Duke site in the world!  Be sure to go to our premium section located just under the header and take a look at what you're missing. Recent interviews include, Robert Carter, Davonta Pollard, Rodney Purvis, Troy Williams, Joel James and Nate Britt.  BDN Premium brings you print and video interviews and if you haven't heard the name Andrew Slater yet then you are not paying attention to our incredibly well informed basketball recruiting analyst and his one of a kind interviews.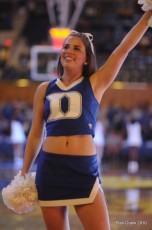 Duke Football Recruiting has been on a roll of late and you can find all the latest verbals by simply going to our football section.  Our resident recruiting analyst, Patrick Cacchio has been on a roll of late and BDN has become the place to be for Duke Football coverage.  We need more members on our football message board to discuss all the breaking news, so join up and help us make our forum the very best.  We are currently seeking a football board moderator, so send me a note through our popular twitter site if you are interested.   Anyhow, Coach Cutlciffe and staff are on a roll and they are beating some big schools for the latest commitments.  One other note, do not miss  our BDN Football Friday column which is the best weekly football article on the web.  If you find a better column on Cut's team, let us know and we'll work harder.
Speaking of Duke and ACC Football, I have been writing a preview of the conference for another site.  Everybody points to the Duke offense being able to move the ball  due to more vets on that side of the ball.  A closer look will tell you that Duke starts just two seniors and that nine of these kids will be back again the following year.  I picked Florida State and Virginia Tech as division winners and the main reason is that both have a manageable schedule.  The Blue Devils have the 22nd toughest schedule in the nation according to Phil Steele.  By writing a preview, I have a jump on fellow media members in picking the All ACC first and second teams at the fast approaching ACC Operation Football gathering.
Lastly, our prayers go out to the friends and family of two high school football players that were shot in Durham.