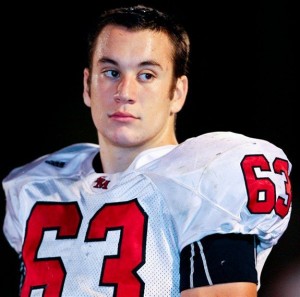 Head Coach David Cutcliffe and Offensive Line Coach Matt Luke continue to build the Blue Devil offensive line with the addition of Charlotte OL Casey Blaser to the class of 2012. Blaser informed the Duke coaching staff of his verbal pledge to the program on a busy Saturday in Durham. Duke wrapped up its summer camps on Saturday, closing two straight weeks of camps featuring hundreds of high school prospects hoping to impress the Duke coaches. The Duke coaching staff was impressed with Blaser earlier this spring and were the first ACC program to offer him a scholarship, joining ECU, Ball State, and Marshall. At 6'5" and 261 pounds, Blaser is set to anchor the offensive line for South Mecklenburg HS this fall.
BDN recently spoke with Casey about his Duke offer.
Welcome to Duke, Casey!
UPDATE: Casey checked in with us on Sunday to let the Blue Devil Nation know about his decision.
BDN: How did you arrive at your decision to commit to Duke?
Well yesterday I attended their camp and I got to see how the coaching staff worked together and how they coached, and I really enjoyed that. Afterwards I got to see the weight room, the locker room, the training room and I really liked their facilities. I got to talk to Coach Cutcliffe and he told me what they're trying to accomplish and what they have planned for the future and I just really liked what I was hearing and it just hit me that I want to go here to play football.
BDN: How did you tell the coaching staff and what did they say to you?
At first it was me, my mom and Coach Cutcliffe in his office and we were talking and then after we got done talking me and my mom walked out and as we were walking in the elevator, I told her, "Mom I want to commit here." She was like "are you sure, do you want to think about it?" And I said, "No, I'm pretty sure I'm ready right now." So then once we got the chance we went back into his office and we told him and they were happy and they were excited and we were all excited and happy about the decision.
BDN: What other schools were you considering?
I also had offers from ECU, Marshall and Ball State, and South Carolina and Georgia Tech were showing interest.
BDN: What are your plans for the rest of the summer?
Just to stay in shape and keep working for football for my senior year.
BDN: Thanks a lot, Casey, and welcome to Duke.
Thank you.