Browse:
Home
/
Casey Peters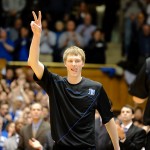 By Mark Watson on March 3, 2011
You'll find the Cameron Indoor Stadium farewell from Casey Peters, Kyle Singler and Nolan Smith in the video below as well as the game introductions where you'll see Josh Hairston do his thing.  BDN salutes the home careers of the seniors who led Duke to two consecutive undefeated seasons on Coach K Court.
Posted in Duke Basketball | Tagged BDN, Casey Peters, Duke Senior Day Speeches, Kyle Singler, Nolan Smith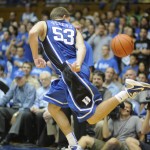 By Mark Watson on March 1, 2011
Make no mistake, Casey Peters journey makes for a good story as you'll see via BDN Video.  The senior will join his temmates Kyle Singler and Nolan Smith as they take on Clemson in the last game the trio will play in Cameron Indoor Stadium.
Posted in Duke Basketball | Tagged BDN, Blue Devil Nation, Casey Peters, Duke Basketball News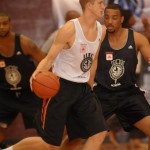 By Mark Watson on July 23, 2009
The North Carolina Pro Am is rolling along and once again a bevy of Dukies took the court to play some hoops in the dog days of summer.  Team Duhon bounced back tonight crushing their opponent 97-47 behind Mason Plumlee's 17 points.  Plumlee, who struggled from the field the night before, threw down three early […]
Posted in Duke Basketball | Tagged Casey Peters, Kyle Singler, Mason Plumlee, Miles Plumlee, NC Pro Am, Ryan Kelly