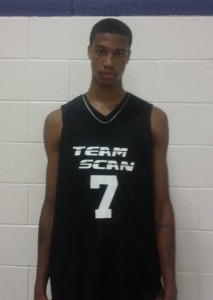 If deployed properly, basketball can be used as a passport to take one beyond the station that one is born into. It can open up doors to a young person unlike few things in life. Adults will fly you around the country, give you meals in restaurants, help you with your school work, and offer you advice, among other things. At a lot of camps and clinics, a speaker will say the aphorism, "Use basketball. Don't let basketball use you."
Chris McCullough is a nearly 6'9" driven young man from the Bronx, who played for Team Scan 15 U this AAU season. He's currently using basketball to attend Salisbury School, a $47,000 boarding school in Southwestern Connecticut that seeks to educate three hundred well-rounded young men. Salisbury, which is located in a bucolic town of the same name that is roughly a little over two hours away from the Bronx, offers state-of-the-art facilities and a very competitive basketball league, NEPSAC. Chris has used this opportunity to develop his game (erupted onto the national scene after an ever improving freshman season), his mind (currently taking Latin as a foreign language), and his body (hitting the expansive weight room and playing WR/FS on the school's 2-0 football team). This upcoming season, they will return a good portion of the talent from last year's squad [McCullough, 6'1" Ryan Frazier (Bucknell) and 6'6" Samuel Dingba] and add in several solid players, including Myles Jones, a three-sport athlete and an All-American lacrosse player from New York who's completing a postgraduate year at Salisbury before heading to Duke, Glenn Baral from Northern California, and a 2013 transfer from Proctor, Michael Geanellis.
McCullough came to Salisbury through his play with the Boys Club of New York, when he was a standout in their tryouts. Since then, Chris has blossomed into a 6'8" hybrid forward with a wingspan of over seven feet. Last season, as a freshman, he earned third-team Class A All-NEPSAC and helped lead Salisbury to the Class A Final, where, on a team with multiple Division I players, he stepped up with a team-high fourteen points against Choate.
This summer, while playing for Team SCAN 15U, McCullough was a force on both ends, using his athleticism and fluidity to attack lumbering bigs, while leveraging his length, size, and improving perimeter shot against smaller wings. His length helped cause havoc in the passing lanes and in blocking shots near the basket. Chris helped SCAN win the Hall of Fame Invitational in Massachusetts and finish as the runner up in both the Providence Jam Fest and the Fab 48 in the desert of Las Vegas.
SCAN, which began in the late 1970s, operates as an outreach program for families in the South Bronx and East Harlem, providing a wide variety of services including after-school help, camps, educational and vocational training, and counseling to nearly four hundred families in order to achieve long-term success and development. Chris' AAU coach, Coach "Munch" Williams, was part of the SCAN program, eventually attended Wesleyan University, one of the top liberal arts colleges in the country, and now helps run the Mullaly Academy in the Bronx.
Although he's got several more years to decide on a college, McCullough has visited several schools including St. John's, Seton Hall, Arizona, UConn, and Syracuse. The sophomore already holds offers from most of the Big East, Florida, Arizona, Iowa State, and Temple, amongst others.
Chris McCullough Freshman Year Salisbury Highlights
The ambitious young man, Chris McCullough, spoke briefly with Blue Devil Nation.
Can you touch on your decision to go to Salisbury? What have you gotten out of the experience so far? Also, what are the facilities and competition like?
Salisbury's been great as far as providing academics and basketball. We've got some new players coming in and we should be a really good team. We should be able to win a Championship this year and next year. That needs to be our goal.
How will your role change from last year to this year?
I think it'll be bigger because I've tried to work on my skills a lot since last season ended. I've been just trying to grind.
[private]
What do you think that your strengths and weaknesses are right now?
My weakness is my outside shot... a little bit.
And what do you feel is the strength of your game right now?
Oh, I don't really have one.
Obviously, your versatility is a factor. What position do you think that you'll end up playing long-term?
I think I'll play the three.
Will distance be a factor for you, whenever you do decide?
Oh, no. Not at all.
What are some things that you're ideally looking for in a program?
In college?
Yeah, I'm sorry. I know it's so far away.
No, no, that's alright. It's a gotta be a good school with a feeling that we're gonna be a part of something bigger and I'd like a chance to start.
So playing time will be a factor?
Oh, yes.
Can you talk about the rise of New England basketball and some of the competition that you face on a regular basis?
Oh, yeah, I play against good schools and players. The point guard at Hotchkiss is heading to Marquette
Derrick Wilson.
Yeah.
What are your goals for this high school season, collectively and individually?
Just one goal. Win a championship.
In terms of AAU ball this year, how would you assess your play?
I feel I've grown a lot and faced a lot of great players.
You feel that you've had a good run though?
Oh, yeah, yeah.
How do you feel when you play in front of college coaches? What do you feel inside?
Excited. I feel excited.
What schools are after you and what offers do your have?
My offers are Syracuse, Saint John's, Providence, Rutgers, Iowa State, Temple, and a few others. Those are the ones that I definitely know of.
Now, in asking around, there was a belief that St. John's is your "dream school." Is that accurate?
Oh, no, not at all. I'm wide open.
Is there a player that you try to model your game after?
Just Kevin Durant.
Who will you seek guidance from whenever you do decide on a college?
I'm not sure.
Who's the toughest player that you've gone against so far?
Wayne Selden. The little guard…he's tough.
You do both, but do you feel more comfortable with your back to the basket or facing up?
Definitely facing up.
What's your favorite part of the court to catch the ball?
The free throw line.
Academically, I assume you're totally fine. Is that correct?
Oh, yeah, yeah. That's been no problem.
What would you like the audience to know about you away from the court?
That I'm a good kid.
Are any ACC schools recruiting you at this time?
Virginia. Virginia's the only one so far.
Just out of curiosity, what do you know about the Duke program or university?
Not much, I just know they're a great program and I like to watch them play when they're on TV.
Alright, Chris and Coach, thank you very much for your time and good luck in the future.
Definitely, thanks. Any time.[/private]